CONTENT FORMATS – REACH YOUR TARGET AUDIENCE WITH THIS ADVICE
Content is king, every company is aware of that these days. But how do you use content formats to reach your target group?
In this article:
The most important facts about content formats summarized:
There are a wide variety of content formats that combine their strengths
Which content formats companies use best depends on the target audience
Special marketing tools help to implement the content strategy
How content rules the world of marketing
Different trends dominate marketing depending on time and the circumstances. For a long time, print advertising was considered the best marketing method and every company took advantage of beautifully designed posters and flyers. This trend then was followed by TV commercials as the best advertising medium. Especially on TV shows with high audience ratings, businesses wanted to place their commercials to get more attention. Then there are the timeless advertising methods, such as word-of-mouth or trade fairs. However, during the times of the corona crisis, a rethink took place and trade shows in particular were not possible for about two years or could only be implemented under strict conditions. For a few years now, a new trend has been emerging as a result of digitalization, namely content marketing and because of the pandemic, more companies than ever before are relying on the strengths of dynamic online content.
No matter if social media or websites, businesses provide their platforms with content on a daily basis and use different kinds of content formats. Classic marketing methods such as trade fairs and print still belong to their portfolio but in the past years the trend developed in a different as well as clear direction. Blog articles, videos, designs, podcasts – good content has many faces and we will show you how you present content to your target audience.
Why businesses should expand their content strategy
A good content strategy has developed into a relevant competition factor in the past years. Companies with a strong online presence, be it through blog articles, podcasts or videos, benefit the most from the advantages of digital marketing. One of these advantages is the desired first page of google and other search engines. For many years it is known that google prefers websites which regularly post new and high quality content. But this rule doesn't only apply to search engines, even the algorithms of platforms like YouTube prefer channels which regularly publish long and high quality videos. Content isn't only about regularity, but especially about quality.
The steadily growing competition makes it kinda hard to establish a business in the digital world. Only about ten years ago there wasn't any competition on keywords / google search terms and advertising content through paid ads (e. g. facebook) was much cheaper. But that belongs to the past because what matters in 2023 is a good strategy, variety, unique selling propositions and regularity. Businesses are in the position to provide their target audience with innovative content and not only to rely on proven strengths.
Moreover, content is the motor for automated marketing processes. Newsletter subscriptions or bookings for online courses always require content in the first step to build reach and to gain your target audience's attention. Lead generation without the right content is impossible.
Which content formats are there?
Claims of the target audience are growing and businesses are in the position to think about innovative ideas to not provide generic content. The different content formats ensure variety to win over the attention of the target audience and to expand the online performance of your business.
Visual content
Nothing sticks in the minds of the target group as well as images or videos. They communicate emotions and the learning effect of informative content is bigger than with texts. The biggest advantage is that pictures are almost always used in combination with different content formats or are at least useful – only through visualization social media posts unfold their effect, when reading blog articles the target group is provided with viewing material and even boring statistics get a nice optical makeover. The disadvantage of pictures is that content, which requires explanation, can't be displayed. This is why we recommend a combination of text and pictures to combine the strengths of both content formats.
Videos come with a completely different disadvantage: The effort. Appealing videos require a good set-up, high quality equipment, safety in front of the camera and a final editing.
Advantages of visual content
User friendly
High learning effect
Emotionalizing
Disadvantages of visual content
Not barrier free
Displaying complex content almost not possible in picture format
Videos are very time consuming
Blog articles and text
When reading about the term "content" most people think of blog articles. That's no surprise, because especially texts improve performance of a website, thus ensuring a good google ranking. That's actually the reason why many businesses hire copywriters or even create jobs for that. Blogs are known for being the strongest medium to expand reach because the integration of the right keywords increases visitor numbers on websites and businesses win more customers through that.
An often overlooked advantage of texts is the accessibility of videos and pictures – web builders like wordpress come with the function to enter an alternative text as picture description which is read out in the event of charging difficulties or in the event of impaired vision.
Disadvantages appear with very extensive blog articles with poor content structure. Although search engines like to see informative blogs with good SEO, usability often gets lost when the table of contents is missing or there is no option left to go directly to the desired section. One example for that are websites with cooking recipes: Many bloggers expand recipes to holistic articles but don't add a table of contents. Readers have to find the recipe by themselves and have to read through the complete text. This increases dissatisfaction with the blog, which in the worst case increases the bounce rate and worsens SEO performance.
Advantages of blog articles and text
Informative
Barrier free
Detailed presentation of complex content is possible
Disadvantages of blog articles and text
Not emotionalizing without pictures or videos
Bad navigation when table of contents is missing
Podcast
In comparison to the other content formats, podcasts were added relatively late, but are still part of the marketing portfolio of many businesses. At first, we want to clear up with a prejudice: Podcasts aren't only good for storytelling or for freetime-stories because they communicate important information and knowledge on a very personal level. The speaker appears to be reachable for the target audience and through interviews listeners gain additional insights and hear different perspectives to a specific topic.
Podcasts are captivating and communicate knowledge in an almost entertaining way but for business growth they are less appropriate. There are exceptions as well but in most cases, a podcast isn't part of a content strategy because listeners only rarely go from a podcast to the website and take advantage of a company's offer.
Advantages of podcasts
Listeners build up a personal connection
Podcasts are entertaining
High learning effect
Longevity of content
Disadvantages of podcasts
Bad for conversions
High reach primarily in entertainment niches
Social media posts (engagement posts)
Social media combines the content formats text, pictures, videos and audio. On the different channels there is one separate content format which promises additional attention, namely so called engagement posts. The goal of these posts is to win the attention of your target audience through interaction. The social media channel instagram, for instance, makes it possible to ask surveys or to let subscribers participate in quizzes. Engagement posts signalize the target audience that you are interested in hearing their opinion. Other than that, you increase the engagement rate which has a positive impact on the social media performance and you get further insights into the wishes and desires of your target audience.
Advantages of social media engagement posts
Target audiences recognize that their wishes are considered
Good basis for market research
Provides for variety and more interaction
Disadvantages of social media engagement posts
Your target audience might recognizes that you only use engagement posts to collect more information about their user behavior
The different advantages of content formats
You shouldn't start producing content right away, you should rather first think about which target audience you speak to. Blog articles, videos and freebies all work for most businesses but the desired goals are different. Blogs build reach in the first step, freebies on the other hand are for people who have already been in touch with businesses.
With the other content formats, you have to carefully weigh up to what extent they are worthwhile. Live events or webinars are primarily for B2B customers and podcasts are more interesting for a younger audience which place high value on variety in content.
The versatility of content using the example of digital signage
How dynamic and varied content is, can be shown on the example of digital signage. The technology of digital billboards ensures the display of different content formats, no matter if it's audio, video, picture or text. Applications differ and depending on the target audience, there are different opportunities. Restaurants show contents of a menu, clothing stores advertise their products and administration offices provide their staff with information. What matters at the end is the target audience – therefore, it's less about which content format a business uses, but which persons they target with it.
Important questions for a goal oriented content strategy
Who is my target audience?
Is the goal of my company to expand reach or to generate leads?
Which content format normally works for my niche?
Which personnel do I need for the implementation?
With which costs do I have to calculate?
Which content marketing tools are used
How big is my team and what are its strengths?
What are current trends and how can I consider them for my strategy?
Does my content strategy consider eventualities and possible changes in trends?
How often do we post new content?
The best content marketing tools
To provide your target audience with good content, the right marketing tools are necessary. The palette reaches from design tools to applications for keyword research. The diversity of applications is growing and promises businesses the opportunity to execute their plans in content marketing. Following, we have listed the best marketing tools and how they can help you to execute your marketing strategy.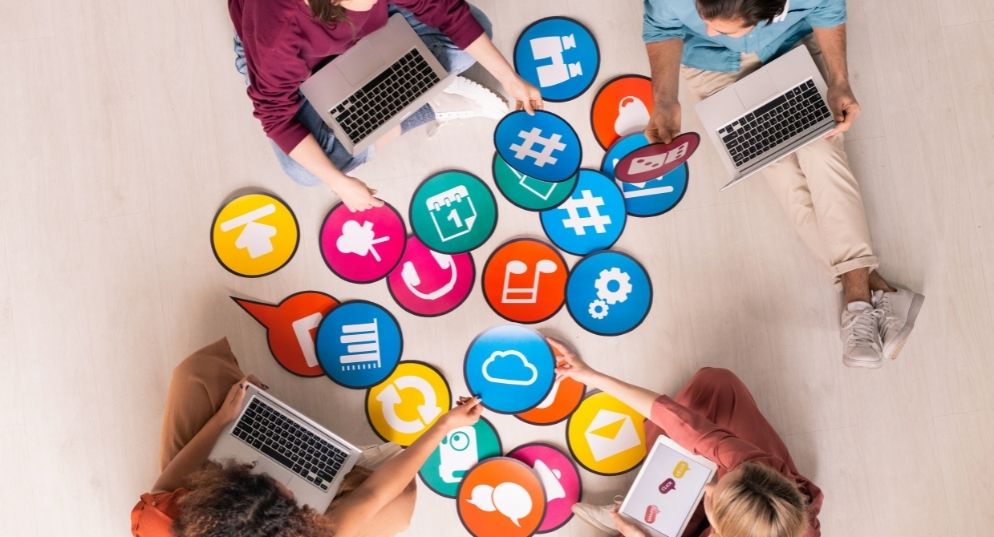 Overview of the best content marketing tools:
Canva
Photoshop
Illustrator
Ahrefs
Audacity
Later
Vegas Pro
Asana
Google Drive
Canva: The design tool for everyone
Most design tools require specific knowledge and pose a great challenge, especially for beginners. The developers of the service Canva had an innovative idea: To transmit the concept of a website builder to the creation and design of content. Canva doesn't require installation and you don't have to create designs out of nowhere – instead, the application works directly through the website and there are thousands of design templates available for inspiration.
The best thing about the tool: Canva is user friendly and intuitive. Designs for social media posts are provided in the right format and can be shared directly through canva.
Adobe illustrator and photoshop: The design tools for pros
Canva is known as a solution for everyone who doesn't design a lot. The modular format expands regularly, but finds its limit when creating certain content (e.g. logos). The programs of Adobe still count as the biggest challenge for designers and give a lot of space for creativity. Photoshop is mainly used for picture editing, illustrator for logos and vector graphics. At first, these applications require some practice, but once you are trusted with the programs of Adobe, you will create stunning and unmatchable designs.
Ahrefs: Keyword research made easy
Experienced texters know that nowadays it's not enough to choose a topic and work on its content, because it is the keywords which matter the most. Ahrefs is a good solution for that because it's a user-friendly and professional tool for keyword research. During research you are suggested many different keywords and W-questions, furthermore the tool offers the opportunity to analyze websites and their integrated keywords and to compare the performance of your own website with the one of your competitors.
Audacity: Editing audio files uncomplicated and for free
Podcasts inspire people – they communicate emotions, are accessible from everywhere and listeners can expect exciting content about specific topics. There are many programs to edit audio files but one of them has particularly proved itself: Audacity. The application is for free and ensures fast as well as uncomplicated editing of audio files. And don't you dare to think that a free-to-use program can't be good – Audacity provides you with all needed functions, no matter if it's changing volume or reducing background noises. The only weakness lies in editing the details of an audio file (e.g. frequency settings or sound features). Those who don't want to miss that out rather use a chargeable software such as Adobe audition.
Later: Plan your content
A good editorial plan is especially helpful for businesses with a long term and extensive content strategy. To ensure that you don't lose the overview, a planning tool such as Later is recommended. The application allows precisely timed planning and sends reminders, so that you won't forget to upload a post on social media channels. The biggest advantage is automation because with a membership you're provided with the advantage to upload social media posts without having to do it by yourself.
Vegas Pro: Videos with style and quality
Among free-to-use software for video editing there is not a lot you can choose from. The well known Windows Player isn't part of the integrated programs on microsoft computers anymore and doesn't provide any mentionable editing functions for videos. With Vegas Pro it's a different story. At first, the tool might cause you some troubles because of all the different things you can do. However, once you get familiar with the program, you don't want to use a different one to edit your videos.
Asana: Organize your team
Complex content strategies involve many different parties – you need someone for design, social media texts, blogs, SEO and websites. To make sure that there are no overlaps, centralized organization through a project management tool such as Asana helps you. The main advantage is that all involved parties can easily communicate with each other, have access to all to-dos and get a precise overview of all the deadlines to meet. For a team of two or three, tools like Asana aren't really helpful but for bigger projects it's almost a must.
Google Drive: Save your data uncomplicated
Cloud storages such as Google Drive make working in a team easier. Before the times of cloud services, the parties involved in a project had to send the content to each other and save it on their end device. When there were problems with the device, content was gone as the worst case scenario. Thanks to cloud services like Google Drive this isn't a problem anymore because the content is stored in an area freely accessible to all involved parties and can be accessed from everywhere.
Our final advice: Consider the details
Creating content and using the right format is not everything. To produce good content, you need an eye for details – the wrong picture format leads to a loss in quality and if you choose the wrong color channel in photoshop, you show your social media audience group a faded picture. We recommend you to double check your content before you publish it. Not only optical mistakes cause problems, grammar mistakes or maximal lengths of videos might cause trouble as well. It is best to deal with the requirements in advance and finally check everything again.
Conclusion
Without content you limit your chances of performing successful marketing. Through social media and the variety of websites, users get in touch with different types of content everyday, which wins over their attention and delivers added value. Businesses are in the position to provide new and innovative content, also to save a better position in search engines such as google and bing. But even in different areas, digital signage for instance, different types of high quality content are the key to win over your target audience.
Pictures: © Canva.com