What is DIGITAL SIGNAGE?
DEFINITION, ADVANTAGES & APPLICATIONS
Efficient, greatly designed and intuitive. Digital Signage Software revolutionizes the location bounded display of advertising.
In this article:
Digital Signage Software: The future of communication?
Digital, contemporary and intuitive: these three keywords probably best describe digital signage solutions. Whether in a shopping mall or at a trade show, companies from all industries rely on digital advertising displays to specifically market their offerings.
Signage displays play video and image files in a wide variety of formats and enable efficient marketing with an appealing visual presentation. But how exactly do digital signage solutions work and what advantages do they offer? In this article we provide the answers. This much in advance: You will be surprised what advantages your company has through signage solutions.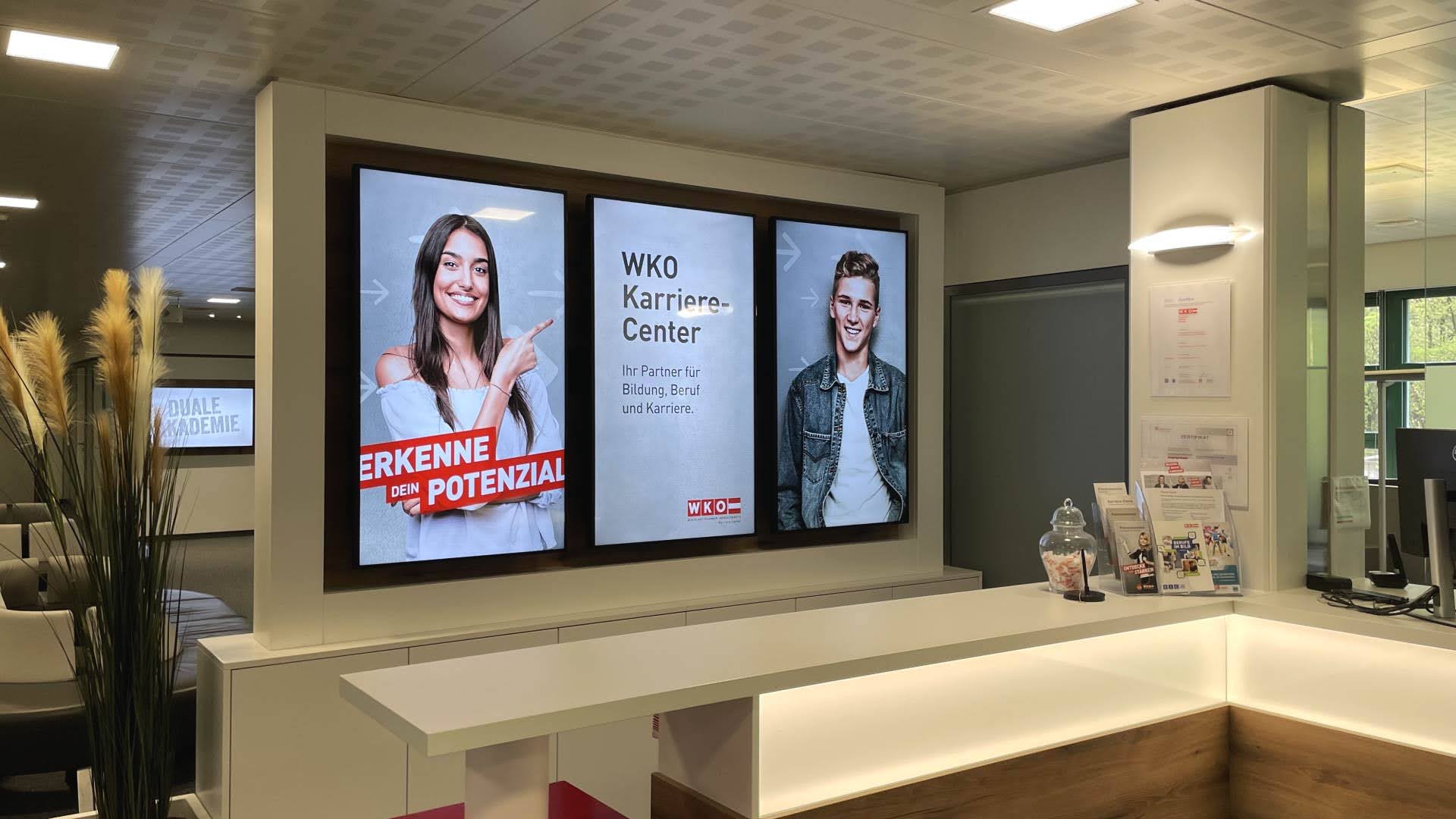 What is Digital Signage Software and how does it work?
Simply put, digital signage solutions are screens that display image and video material in compact form. However, this is not exclusively advertising, as the systems are also used to display information, for example. A good example of this are doctors' surgeries: In the waiting room, there are monitors displaying tips and tricks on hygiene or news from the medical world.
Digital signage solutions are used particularly frequently in the following industries:
Gastronomy and hotel industry
Retail
Event industry
Waiting room
Cinemas and entertainment
Public institutions (e.g. libraries)
Here you can find out more about the industries and application areas of digital signage as well as the individual advantages for your company.
HOW DOES DIGITAL SIGNAGE WORK?
This raises the next question: How does digital signage work?
The playback of the image or video material requires a computer device for the preparation of content as well as a memory and a device for the playback of the content. Thus, the digital-visual networked information is imported, updated and finally displayed on the screen through the use of a program. By using a cloud, the content can be stored and played back at any time and from any location.
So behind the digital displays there is no technology that can only be operated by experts. After installing digital signage software, content changes can be easily made by anyone. The software meets high quality and security standards, but also takes into account the user experience and practicality.
And this is what it looks like in practice: Digital signage at Le Jardin restaurant
Digital display ads: What are the advantages?
With the use of digital advertising, companies optimize their working processes and make them more efficient. Another thing to point out is, that displayed content can be changed easily. The alternatives to Digital Signage are classic advertising and marketing tools such as posters and advertising shields but the designs of them need to be renewed every time changes are required and that takes long. Digital Signage is much more flexible because you can display the content you want to show your potential customers.
Saving time also means saving money – classic advertising and marketing methods such as posters don't only need to be designed, it is also to consider that someone has to print them. Digital Signage Software only needs content on a regular basis.
The flexibility of digital billboards makes changes easier and that also means that companies are given the possibility to show ads that their target group wants to see. For instance, in the morning different ads can be shown than in the evening right before the business closes. Because of this given possibility, companies can precisely meet the needs of their different customers and also have the possibility to test new ads. In the long-term every business saves a lot of money with that and finds out which ads really work and which do not.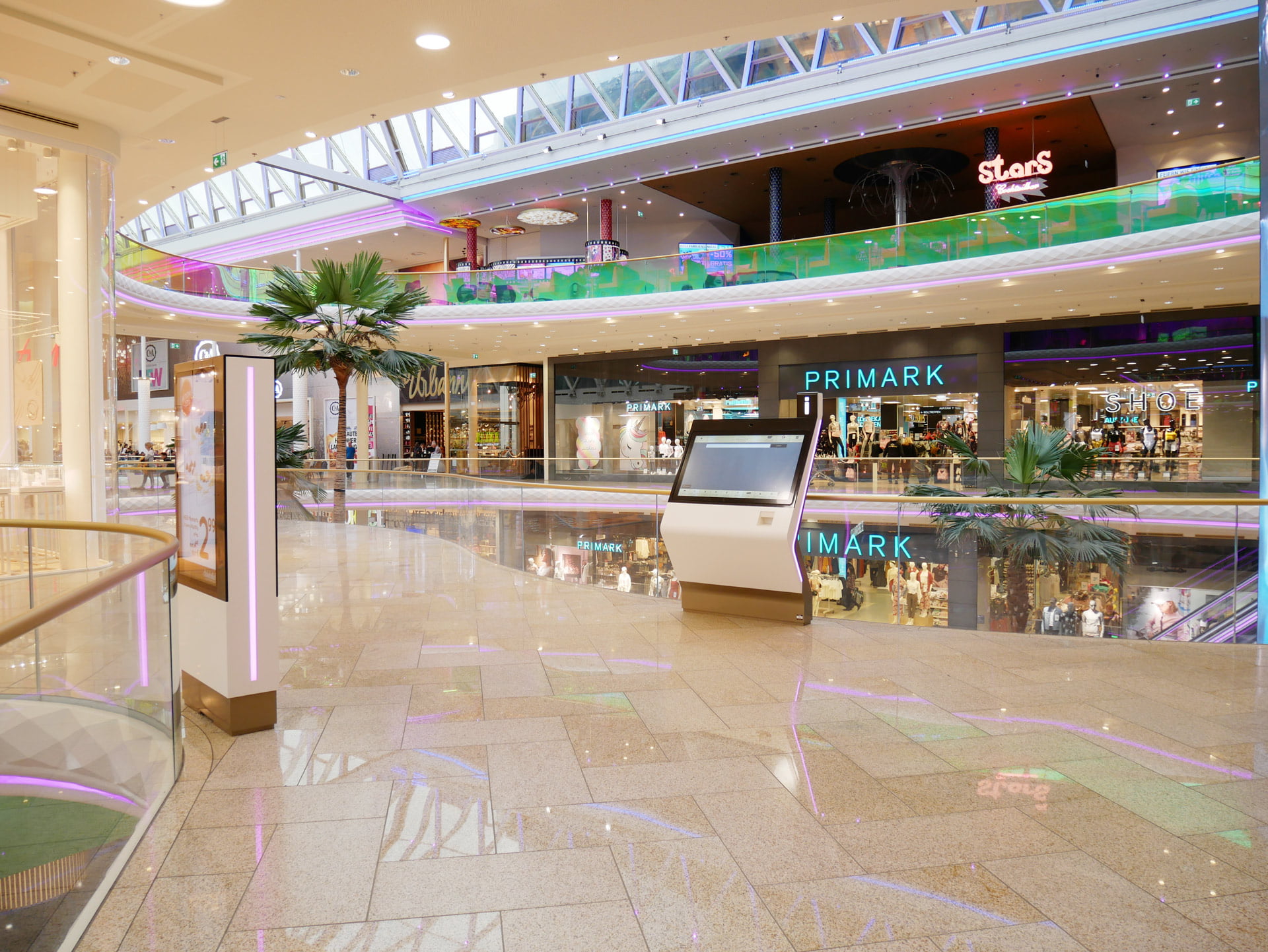 In conclusion, the main advantages of Digital Signage are the following:
Cost savings
Time savings
Flexibility
Adapting the content to meet the needs of potential customers
The biggest advantage is probably the given win-win-situation for businesses and customers. Companies save time and money, customers on the other hand are able to use an intuitive and well designed device to find shopping inspiration or to get further information about something.
-> Find out more about the application areas of digital signage and how your business takes advantage of it
THE ADVANTAGES OF DIGITAL SIGNAGE USING THE EXAMPLE OF DIGITAL BILLBOARDS
By using digital signage, companies make their work processes more efficient, because changes in the design can be made in real time and the adjustments do not require additional specialized personnel. A user-friendly application makes it possible!
By comparison, conventional advertising methods such as posters or signs not only require an elaborate design, but also need to be printed. The whole process takes a lot of time, even if only small adjustments (e.g. the price) are needed. In addition, the print design can only be created by a graphic designer / graphic artists, because certain dimensions must be taken into account when printing,
Digital signage solutions also convince in comparison with the advantage that digital content is more durable and sustainable.
The flexibility created with digital signage enables short-term adjustments to the wishes of the target group. In a department store, for example, different content can be played out in the morning than shortly before closing time. Artificial intelligence and sensor-based technology ensure successful implementation. In our article "Software development: the future of marketing?" we explain this process in more detail.
This gives companies the opportunity to respond more quickly to the needs of different customers and to go through a test phase for their advertising. Ultimately, this provides long-term savings opportunities, because it is determined more quickly which advertising really makes sense and which does not.

In addition, digital signage promotes interaction with the target group. Playful elements and flexible design options in video design appeal specifically to customers and interested parties. Your company also makes a good impression. By taking the user experience into account, target groups also find it easy to use the applications.
Probably the biggest advantage is the resulting win-win situation for both companies and customers. A company saves time and money, while customers get an intuitive and visually appealing solution, whether as a source of shopping inspiration or for requesting information.
You're probably wondering how you can use digital signage, and we have the answer: our article on the functions of digital signage will give you a concrete overview.
Overview of the advantages of digital signage
Cost savings
Advertising campaigns played out via digital signage solutions cost less than posters or flyers.
Time savings
Change content in real time and optimize the communication structures in your company.
User Experience
Digital signage solutions are easy to use and navigate your target audience through malls and other facilities.
Accessibility
Digital signage is freely accessible and the content is configurable to provide an accessible experience.
Modern Image
Digital signage solutions enhance your corporate image and leave a modern overall picture.
More Sales
Appealing advertising via strategically placed displays promises more sales and higher sales figures.
Sustainability
Digital signage solutions reduce the need for paper and consume little power thanks to innovative technologies.
Feel-good atmosphere
Displays create a pleasant atmosphere, especially in restaurants or cafes.
Flexibility
Change your content whenever you want and use the versatile design options for individual marketing.
Versatility
Whether for advertising, presentations or employee communication – digital signage solutions offer versatile application possibilities.
What is the
future

impact of Digital Signage Software?

Every step towards digitization also means that companies establish more flexible work processes. But the target group also benefits from these changes, because digital signage systems offer intuitive and user-friendly operation.

The uncomplicated and fast handling of the devices has a positive effect on customer satisfaction, which also makes them increasingly a competitive factor. Digital signage also meets the highest security standards as well as user experience and accessibility requirements.
What about the costs?
Digital signage prices depend on the equipment and which solution is best for a company. At FRAMR, we specialize in signage software and offer our customers intuitive as well as attractive deals. Our systems are available in different versions and are designed to meet different customer needs accordingly. The applications include video, image, Google Maps, RSS feeds and even crypto courses. Of course, we advise and help with pricing issues and basic calculation.
Conclusion
Thanks to digital signage solutions, companies from all industries have the opportunity to easily update their advertising and align it with customer needs. But no one should think that these systems are only advertising screens, because the software is suitable for a wide range of applications.
Whether digital signage solutions are the future of communication should not be the question in terms of benefits. Rather, the question should be how the displays can be integrated even faster into the marketing portfolio of companies. In the age of digitalization, every virtual measure is more efficient and practical compared to conventional methods, but it is up to companies to successfully implement these trends. Regarding the mentioned advantages, this digital trend turnaround should happen as soon as possible, because companies enhance their own image and save a lot of money in the long run.
FAQ
Finally, we answer frequently asked questions about digital signage software.
FRAMR: The innovative solution for your business
As experts, we develop high quality digital signage solutions for b2b businesses. The possible applications range from advertising to customer interaction. In doing so, we pursue the goal of improving digital structures of companies and modernizing their image.
Your advantages with FRAMR:
✔ Years of experience
✔ Highest safety standards
✔ Innovative technology that promises quality
✔ GDPR compliant solutions
✔ Cost transparency
✔ Great service
✔ User-friendly applications
Contact us today to secure a no-obligation offer that fits your strategy. Our team of experts will provide you with helpful advice and support in the area of digitization.