DIGITAL SIGNAGE AS AN EFFICIENCY BOOSTER FOR YOUR BUSINESS
Digital signage not only enhances a company's image, but also makes work processes more efficient.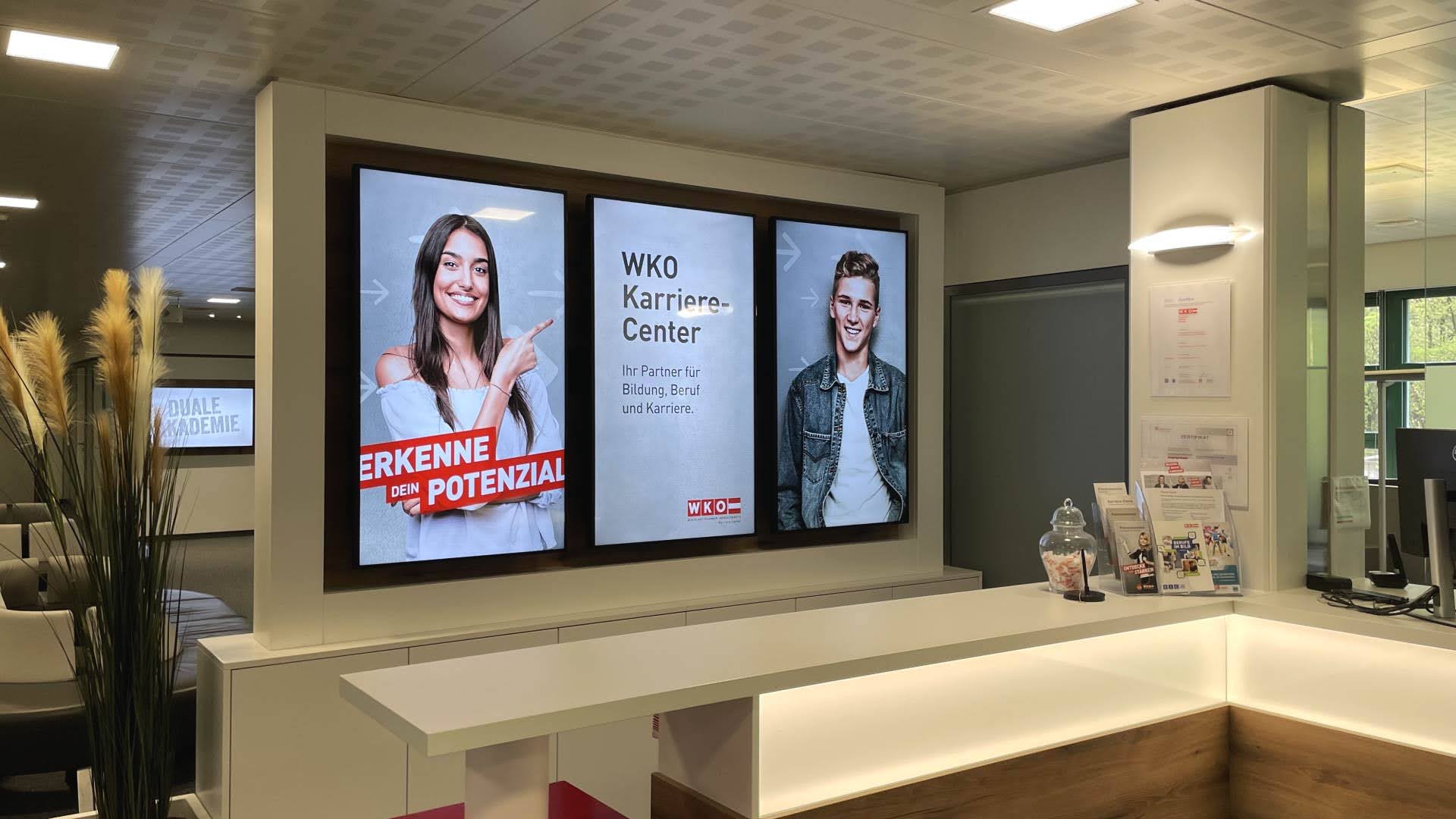 Digital signage applications support the creation of a modern brand image. High-resolution displays grab the eye and the versatile design options meet high demands in terms of design.
But the possibilities of digital signage go beyond that. Depending on the area of use, the applications also promise greater efficiency in the company, especially in communication. In the following, we explain the various ways in which digital signage can be used efficiently and provide tips for practical application.
Centralized communication
By using digital signage, communication is done through a cloud-based / centralized application that broadcasts content to all connected players. This makes it easy to highlight training or events.
This also provides advantages when communicating work orders, plans and shopping lists. In fact, your business is flexible and transparent, and at the same time communication channels become shorter.
Digital signage creates few ambiguities when conveying information. The space for a flyer or a blackboard is limited, but FRAMR. displays offer a lot of space for communication/presentation of important information. Alternatively, you can arrange multiple slides in a row.
Fast real-time updating of content
Digital signage allows updating information in real time. This is beneficial when something important changes at scheduled events, such as the location or time. Neither posters nor flyers offer this flexibility.
It also makes it easier to remind your team about upcoming events. Circular emails may well end up in the spam folder, but the countdown on a digital display catches the eye.
By the way, don't worry about employees overlooking the displays. The FRAMR. Text-to-Speech module provides you with a voice reproduction of text content. This ensures transparent communication.
Improved customer communication
Info terminals facilitate customer communication and leave a good impression on the target group. This is an advantage especially for malls and large companies, because employees can concentrate on their core business and navigation as well as service is (partly) taken over by digital signage.
Targeted product advertising also increases efficiency in Businesses, because customers have more points of contact with the offer in strategically placed digital signage applications. Combined with a beautiful design, sales figures increase with less service effort.
There is also the possibility to communicate product information, schedules, instructions and event details. FRAMR. info terminal module allows individual interaction through the use of a touch screen, allowing each visitor / customer to access the desired information.
Short preparation times in marketing
Campaign planning definitely needs a long preparation time. Discount campaigns require advertising posters or boards that first have to be produced and printed. The time required is high, as is the financial investment for design and printing.
Digital signage promises a fast and uncomplicated process here. Designs are created in real time and no print material is required, which means campaigns take a shorter preparation time.
Summary: The efficiency advantages of digital signage at a glance
Increased flexibility in communication and content creation

Updating of content in real time

Cost savings through self-service

No printing costs for advertising campaigns

Transparent and automated (customer) communication
FRAMR: The innovative solution for your business
As experts, we develop high quality digital signage solutions for b2b businesses. The possible applications range from advertising to customer interaction. In doing so, we pursue the goal of improving digital structures of companies and modernizing their image.
Your advantages with FRAMR:
✔ Years of experience
✔ Highest safety standards
✔ Innovative technology that promises quality
✔ GDPR compliant solutions
✔ Cost transparency
✔ Great service
✔ User-friendly applications
Contact us today to secure a no-obligation offer that fits your strategy. Our team of experts will provide you with helpful advice and support in the area of digitization.