Digital signage for the real estate industry
In this article we present the advantages and application scenarios of Digital Signage for the real estate industry.
Window advertising with posters is a thing of the past, because we present an innovative way to use appealing video recordings and images for your advertising. Digital signage solutions from FRAMR. improve your brand communication and promote the exchange with customers.
With integrated touch function, prospective customers navigate themselves and have access to virtual tours. Image galleries and videos leave a lasting impression and support marketing.
Search functions also help to find the right property for every requirement. There is also the option of making an appointment or submitting an offer directly. In combination with PDFs, brochures on various properties can be downloaded.
In the following, we present the various possible applications of digital signage solutions for the real estate industry. We go into detail about the different areas of application and mention advantages for real estate agents and property managers.
Feel free to contact us if we do not mention your desired application area and you have questions about specific application scenarios.
Digital advertising / Digital shop window
With digital signage solutions from FRAMR. your company will visually stand out from the competition and perfectly showcase your real estate. Communicating with your target group has never been so easy and efficient at the same time.
In addition, you are flexible in content creation and you can make changes in real time. Perfect for highlighting current offers.
About 70% of real estate buyers do their research on the Internet – so it's obvious that prospective buyers want a modern presentation and efficient communication structures. Digital signage solutions are ideal for this, because the combination of visual and interactive elements leaves a lasting impression and is so effective because first-time real estate buyers belong to the digital generation.
This results in several advantages for your company. Costs for designing flyers and posters are completely eliminated, and in general, an investment in digital signage saves resources in the long run. As more potential buyers become aware of your properties, your business will also generate more contact inquiries.

Digital notices
Not only visual elements are important for real estate purchase, but also communication of relevant data. Information for visitors, contact details of real estate agents or notices about properties are important details. For that, FRAMR. offers very bright displays for store windows and the outdoor area.
Here, there is also the possibility of sharing social media feeds and combining the digital presence with digital signage solutions. Your company thereby provides additional insights and saves time in content creation. In addition, interested parties receive important information about events, offers or news from the real estate industry.
Digital notices are also suitable for pointing out available viewing appointments. This makes it easier to communicate with interested parties and reduces the time spent on daily inquiries by phone.
Tenant communication / Guest communication
The real estate sector also includes management by offices and construction companies. Here, the focus is not on sales, but above all on transparent communication structures with tenants. For example, your company can draw attention to events or meetings. Changes in the house rules or current information can also be communicated easily.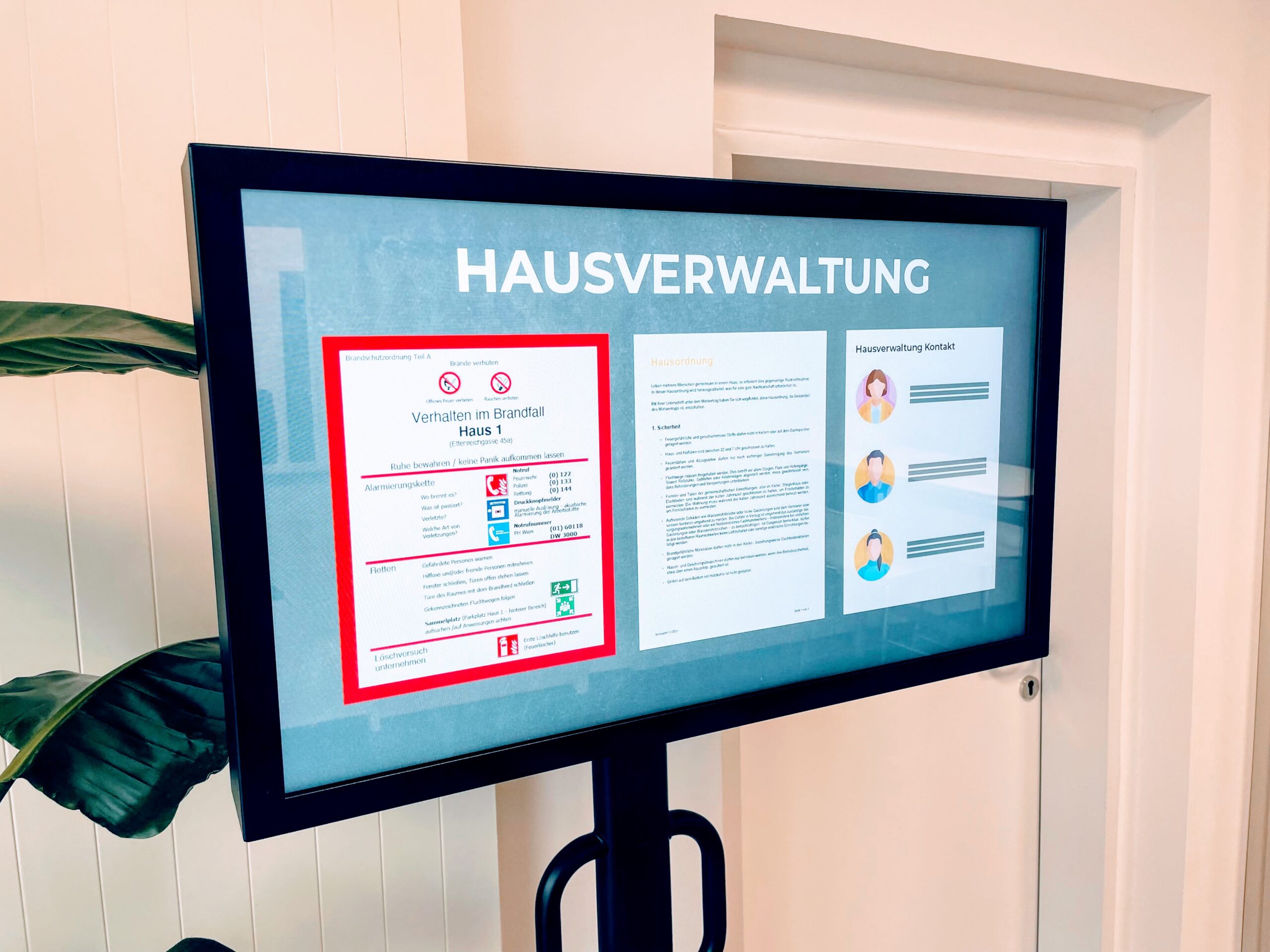 Interactive digital signage applications enable targeted navigation for visitors. This is a useful feature especially for the commercial sector. Here, for example, there is the option of presenting the wellness program to hotel guests. There is also the possibility to use devices with SIM cards and LTE as well as working on your content without an internet connection.
In addition to information exchange, digital signage solutions are also suitable for communication between tenants. If events are coming up or someone has lost his cell phone, digital signage offers a target-oriented solution for communication.
Digital signage displays can be easily installed in various locations. Whether in the hallway, lobby or elevators. This also promises a nicer look in the buildings. High quality displays are also protected from vandalism through a safety glass.
Presentation of real estate agent
A real estate agent's portfolio usually gets short shrift in storefront advertising. Digital signage successfully addresses this challenge and facilitates the communication of portfolio and range of services. Potential buyers know immediately whether the real estate agent exclusively advises on the purchase or also assists with market analyses.
Flexible design options emphasize the image of companies and brokers. Professional experience and successfully managed projects are visibly presented and strengthen trust with prospective buyers. In addition, your company can use various marketing best practices to increase trust – for example, there is the possibility of integrating an interactive function that displays a video animation and generates a sound effect when "another property from agent XY" has been sold.
Employee acquisition
A modern corporate image supports employee acquisition. Regardless of whether someone is traveling by car or bicycle, digital displays immediately catch the eye. With targeted advertisements, you address new employees or brokers to promote company growth. This benefit is especially evident with shop window-displays and LED walls on busy roads.
Your advantages at a glance
Transparent communication of relevant information
With digital signage applications from FRAMR. your company communicates all important information and relevant contact data.
Time saving through flexibility in content creation
You don't have to wait until new flyers and posters are printed. Digital signage allows you to customize content in real time.
Modern brand image
Image galleries, virtual tours, videos and designs in your corporate identity contribute to a modern brand image and showcase your properties decisively.
Save resources
The one-time investment in digital signage solutions promises long-term cost advantages. Designs for flyers and posters are eliminated, as are delivery times. The tedious installation of new flyers is also a thing of the past.
Storytelling
Use the power of stories to better market your offer. Combined with videos, digital signage offers you the perfect medium for content that will be remembered.
Different display sizes for individual requirements
You determine the size of the displays and thus also the location. We are happy to help you find the right place with our advice.
Link digital activities with real estate promotion
Save time and post social media posts directly through digital signage applications. Prospects or tenants will get important info communicated and be up to date regarding meetings and offers.
Advantages in competition
The mentioned advantages also have a positive impact on your stand in the competition. A combination of modern brand image, appealing presentation and transparent communication will set your company apart from the competition.
FAQ
Finally, we answer frequently asked questions about digital signage software.
FRAMR: The innovative solution for your business
As experts, we develop high quality digital signage solutions for b2b businesses. The possible applications range from advertising to customer interaction. In doing so, we pursue the goal of improving digital structures of companies and modernizing their image.
Your advantages with FRAMR:
✔ Years of experience
✔ Highest safety standards
✔ Innovative technology that promises quality
✔ GDPR compliant solutions
✔ Cost transparency
✔ Great service
✔ User-friendly applications
Contact us today to secure a no-obligation offer that fits your strategy. Our team of experts will provide you with helpful advice and support in the area of digitization.