7 IMPORTANT REQUIREMENTS FOR THE USE OF DIGITAL SIGNAGE
In this article we list the seven most important requirements for the use of digital signage applications.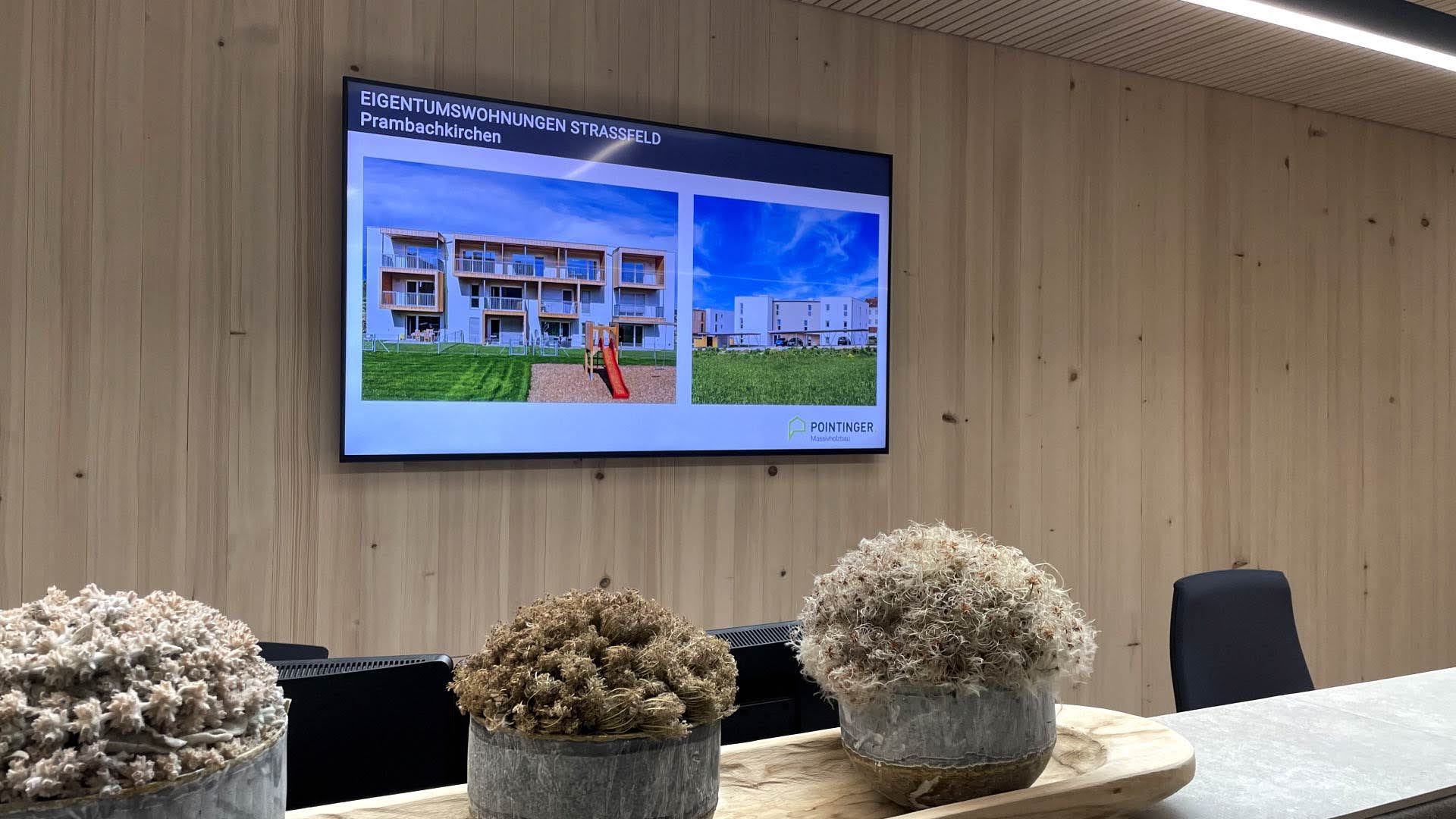 By investing in digital applications, businesses promise themselves certain advantages. Especially in terms of efficiency and transparency in communication. However, not every company takes advantage of these benefits, the reason is often inadequate planning.
Digital signage is a good example of this. The applications promise advantages in the area of advertising, but without a content strategy, your business will still not achieve its marketing goals. In fact, digital signage solutions are a regular part of comprehensive planning, which also takes into account issues related to content or locations. Therefore, we present to you the seven most important requirements for the successful use of digital signage.
Overview of the requirements for digital signage
It all depends on the right objectives
A clear objective is the key factor for the successful use of digital signage. What does your business want to achieve? More sales through advertising? A better user experience? Or are there difficulties with internal communication?
First of all, define your goals and only then take the following steps. If possible, include metrics to measure success, such as sales figures or how many people participate in a sweepstakes.
This also depends on your target audience. While the many design possibilities of digital signage offer your business advantages in content creation, your main goal should be to convince the target audience. Many companies get lost in the variety of design options but sometimes the simplest solutions are the best. So don't overdo your options, because it will be perceived as annoying in the worst case. Better to keep it simple, but in line with the desires of your target audience.
Budget planning
FRAMR. offers you two subscription plans to choose from. You can also choose from different hardware solutions and add-ons. A basic budget planning, taking into account the objectives, creates transparency regarding the costs.
This is not only about the purchase of digital signage, but also about personnel costs for content creation. Although Digital signage offers you cost advantages compared to traditional advertising methods, the applications are still not a no-brainer. Your team first needs to get familiar with the functions, carry out test runs and try out different formats. This results in additional financial expenses – so you'd better plan your budget a little more generously.
Content creation
As already mentioned, digital signage offers your company a wide range of design options. However, the focus is on your target group. The most important thing is to implement content ideas that are beneficial for your business. In an advertising campaign, the focus is not on the complexity of a design, but on how well it appeals to your target audience.
Videos generally work very well, but FRAMR. Signage offers you other modules for a targeted approach. For example, image galleries, countdowns, and text-to-speech.
Location selection
The location is also crucial for the use of digital signage. The screens should not be placed too high, but also not too unimpressive. They should not block the way either.
Ideally, digital signage applications are highly visible, but not distracting or too obtrusive. The following pictures of our customer projects will sharpen your sense for the right location: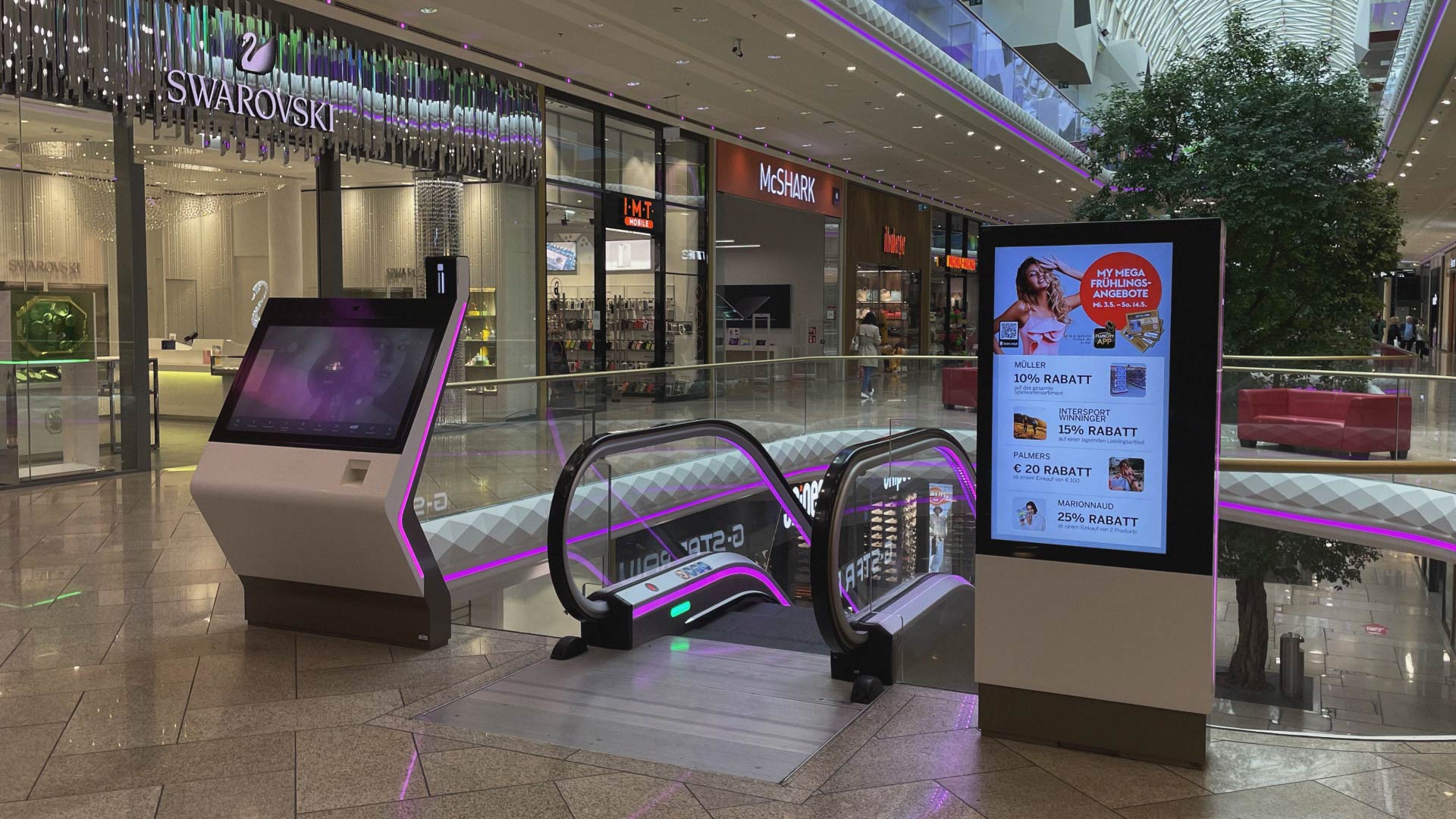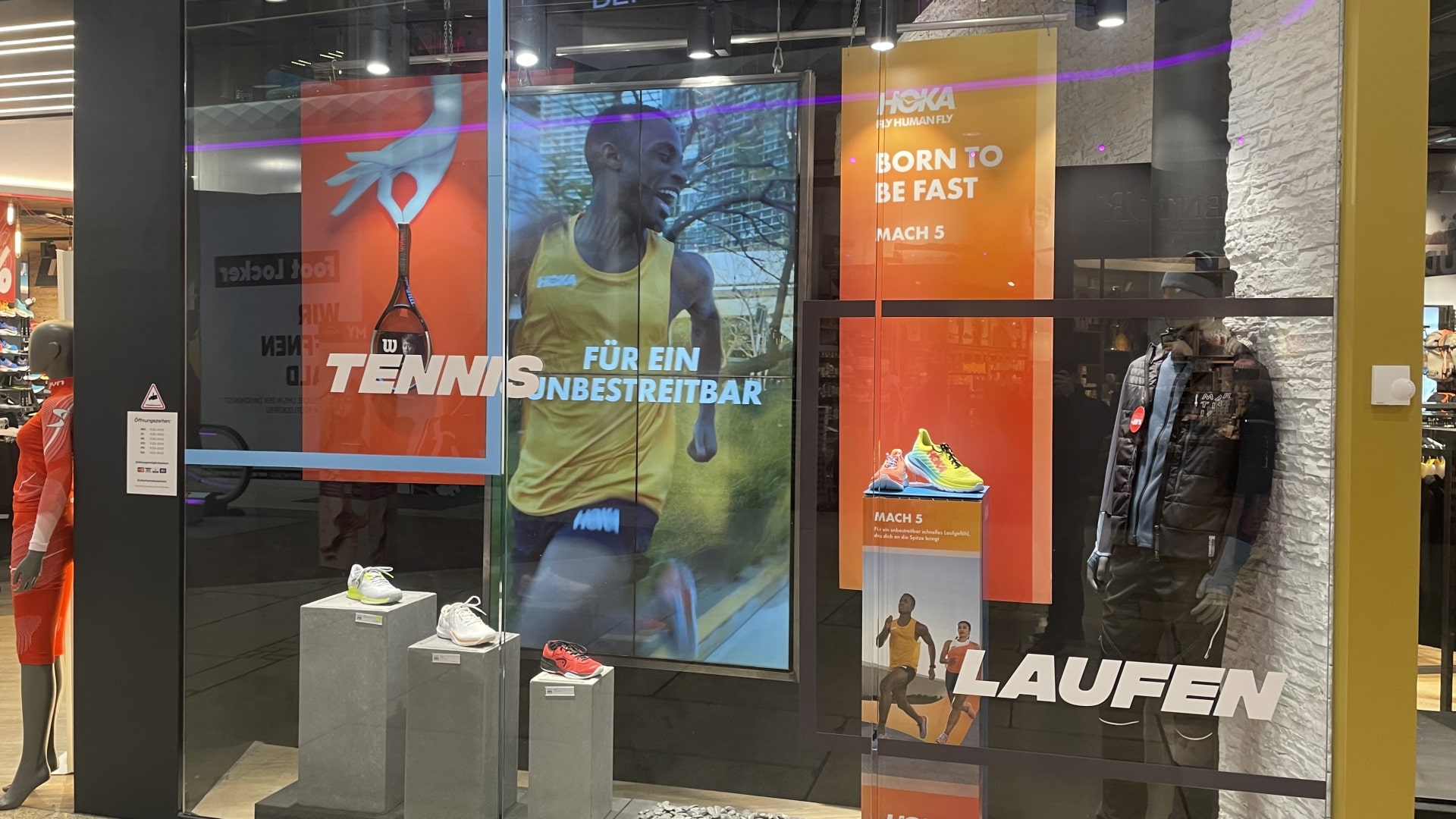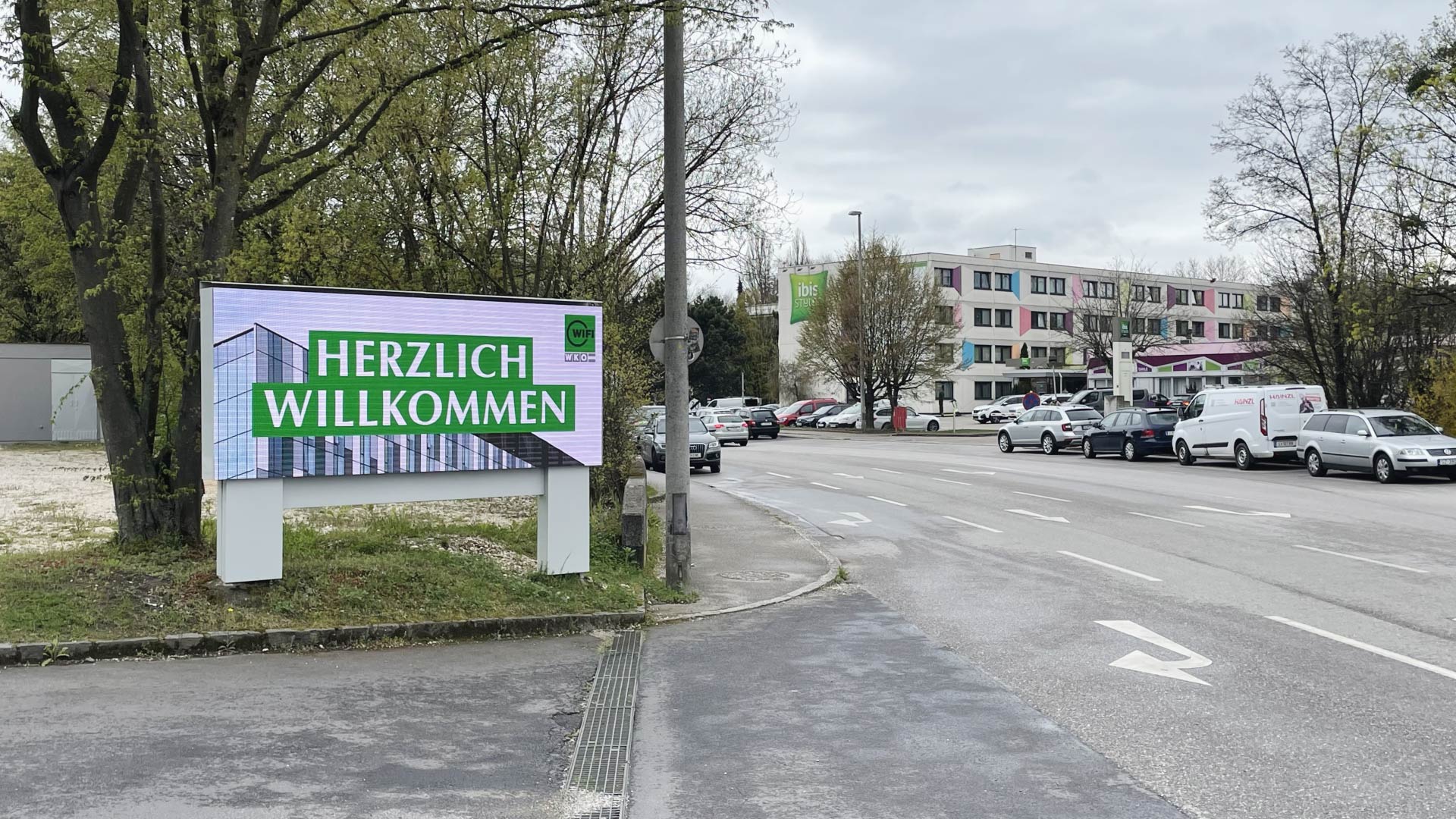 It also depends on your industry. In a small store, digital signage applications are well placed in the window as well as behind the counter. In a mall, on the other hand, it is more practical to place info terminals next to the entrance to ensure good navigation.
Time frame
FRAMR. Signage is quick to get up and running, but you need to get to know the applications first. It may well take a few weeks before you are familiar with all the features. Take enough time to get to know the functions.
As mentioned earlier, you also need to consider human resources. Your team is unfamiliar with the applications and will need a training period. Marketers don't yet know the individual software requirements, and it should be noted across departments that information exchange will be done via digital signage in the future. Such processes take time.
Know the individual requirements
Every business is different and so are the requirements. This refers not only to the target group, but also to the location, the use of resources and the application possibilities. While the requirements mentioned so far apply equally to all companies, even more important are the individual requirements and also possible hurdles.
Example: Digital signage displays are ideally located at eye level and at hotspots (e.g. entrances). This makes them stand out quickly and your target audience is better focused on the content. However, not all businesses are able to place displays at the entrance.
In this case, it is difficult to meet the requirements and alternatives must be found. What those are, depends on your business – either free up space or move the displays elsewhere.
Be aware of all the advantages
Digital signage is a true all-rounder and offers you a lot of advantages. Whether in terms of efficiency, improving communication or expanding organizational structures. You should use this versatility for your business
Example: You plan to create advertising campaigns with digital signage. The goals are clearly defined, namely a better appearance, more reach and higher sales figures. However, after two years you want to expand the scope of digital signage and use it as a presentation medium for in-house training. With the available FRAMR. Modules this plan is easy to realize.
First, decide on a goal and familiarize yourself with digital signage applications. Then you can expand the areas of application and improve the communication structures in your company holistically.
Know your goals and set the direction. But be open to change and use digital signage for different areas of your business. This way you will get the most out of your investment and lay the foundation for the successful digitization of internal processes.
-> If you want to know more about the areas of application, we recommend our blog article about the different application areas of digital signage.
Conclusion
The requirements for digital signage take into account budget planning in particular, but also the choice of location and human resource affairs. Deal with the requirements in advance in order to achieve your goals with digital signage – grant your team a time buffer so that everyone deals with the functions and gets to know the applications.
FRAMR: The innovative solution for your business
As experts, we develop high quality digital signage solutions for b2b businesses. The possible applications range from advertising to customer interaction. In doing so, we pursue the goal of improving digital structures of companies and modernizing their image.
Your advantages with FRAMR:
✔ Years of experience
✔ Highest safety standards
✔ Innovative technology that promises quality
✔ GDPR compliant solutions
✔ Cost transparency
✔ Great service
✔ User-friendly applications
Contact us today to secure a no-obligation offer that fits your strategy. Our team of experts will provide you with helpful advice and support in the area of digitization.