FRAMR. solutions are the perfect answer for the hospitality industry to project a modern corporate image.
Digital signage applications for the hospitality industry range from menus and daily specials to stunning advertising. Your guests will be immersed in a world that delights. It doesn't matter if you run a cozy café or a noble restaurant, because regardless of size or business focus, the hospitality industry benefits from digital signage applications. FRAMR. solutions are designed to combine strong designs and user experience with individual marketing goals. The big picture is a practical application that will delight any target audience.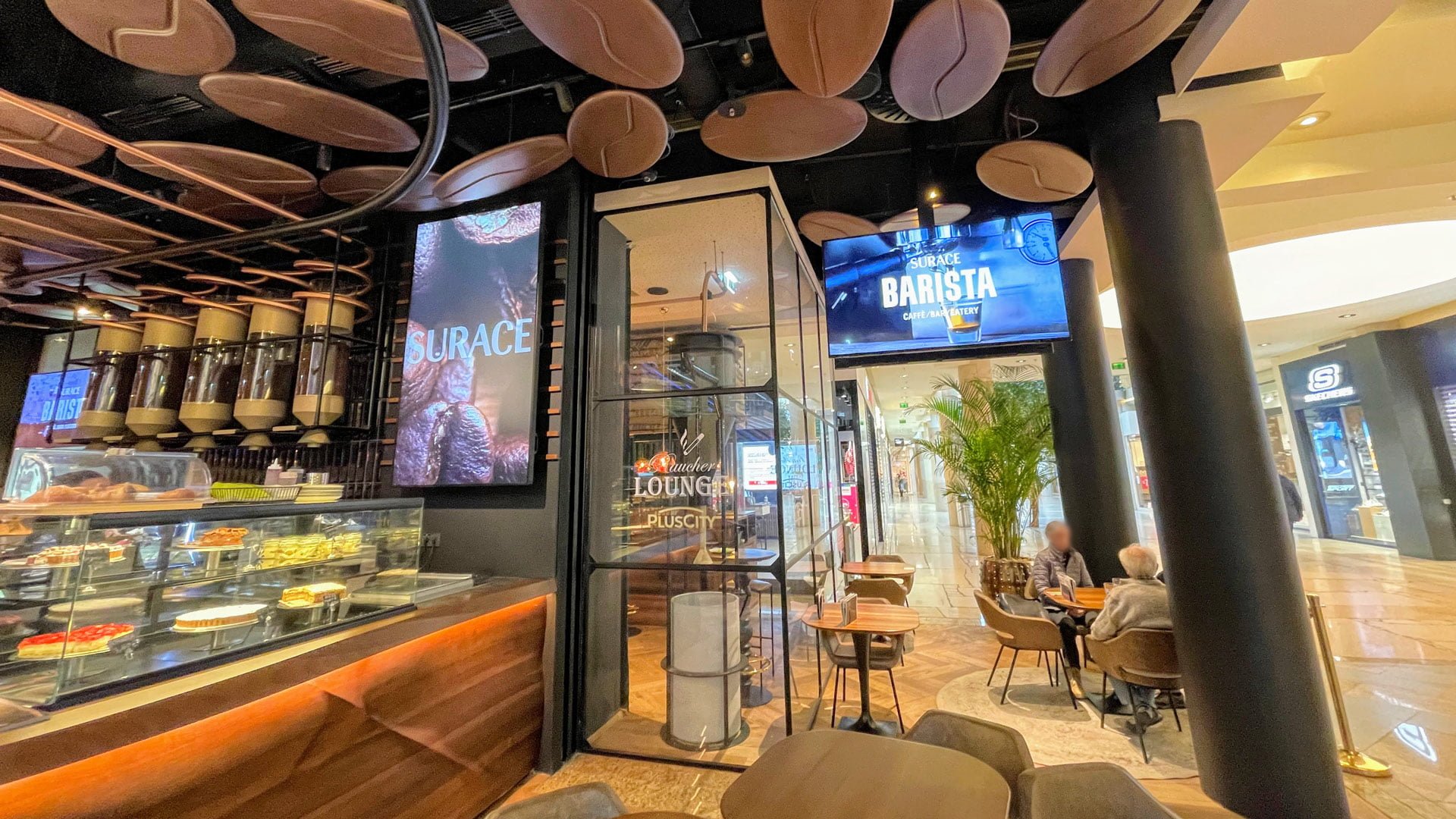 Flexibility in content production and playback
Snack bars and cafes often face the challenge that changes to wall menus take a lot of time. A new design must be created and then implemented. It's a process that can take a few weeks. But with digital signage, that's a thing of the past, because within seconds you can make changes and show them on the display right away. Our cloud-based solutions also give you safe access to applications from anywhere.
More than just a digital menu
The potential uses of digital signage in the hospitality industry are not limited to its function as a menu. For example, you can also advertise with digital customer stoppers or play an image film or an appealing design (see picture above).
Your guests like to be entertained – so how about showing some YouTube music videos? Or maybe you want to inspire something new and show recipes?
Comfort zone for your guests!
Where would you rather go out to eat: In a restaurant with a loveless interior or in a modern restaurant that leaves a good impression? Clearly, you would choose the second option! Digitized companies move with the times and leave a strong as well as lasting impression.
Appetizing images and videos also entice guests to try the delicacies in your restaurant. With the modern look and appealing designs, no guest can resist!
Competitive advantages thanks to digital signage
Relatively few restaurants use the power of digital signage applications. This gives you competitive advantages, because a modern presentation promises your company a stronger position on the market. 
But the competitive advantages are not only related to visual or promotional aspects, but also to transparency regarding hygiene standards. Some restaurants, for example, show their kitchen via digital signage applications and thus provide insights into their working environment. 
FAQ
You have questions regarding the application areas, costs and more? Following you will find the answers!
How much does digital signage cost?
Prices of digital signage vary and depend on the individual application areas. Click here and find out more about our prices, subscription models and additional services. 
What are the design options?
The design options of digital signage range from pictures and videos to audio, social media, RSS-feeds, weather information, PDFs and YouTube. Here you can find an exact listing of the FRAMR design options. 
What are other possible applications?
In summary, digital signage is suitable as an advertising and presentation medium as well as a source of information. But this does not describe in detail how your business can benefit from the applications. For this purpose, we have written an article on digital signage applications.
Is digital signage safe?
During development our team has considered highest quality standards and therefore promises a safe software which is protected from external influences. In our article "digital signage safety" we dive further into this topic.
What does the practical execution of digital signage look like?
Feel free to check out our use cases to get a first impression of the practical execution of digital signage applications. 
FRAMR: The innovative solution for your business
As experts, we develop high quality digital signage solutions for b2b businesses. The possible applications range from advertising to customer interaction. In doing so, we pursue the goal of improving digital structures of companies and modernizing their image. 
Your advantages with FRAMR:
✔ Years of experience
✔ Highest safety standards
✔ Innovative technology that promises quality
✔ GDPR compliant solutions
✔ Cost transparency
✔ Great service
✔ User-friendly applications
Contact us today to secure a no-obligation offer that fits your strategy. Our team of experts will provide you with helpful advice and support in the area of digitization.