In this article we will go further into the different digital signage applications and their advantages.
In this article: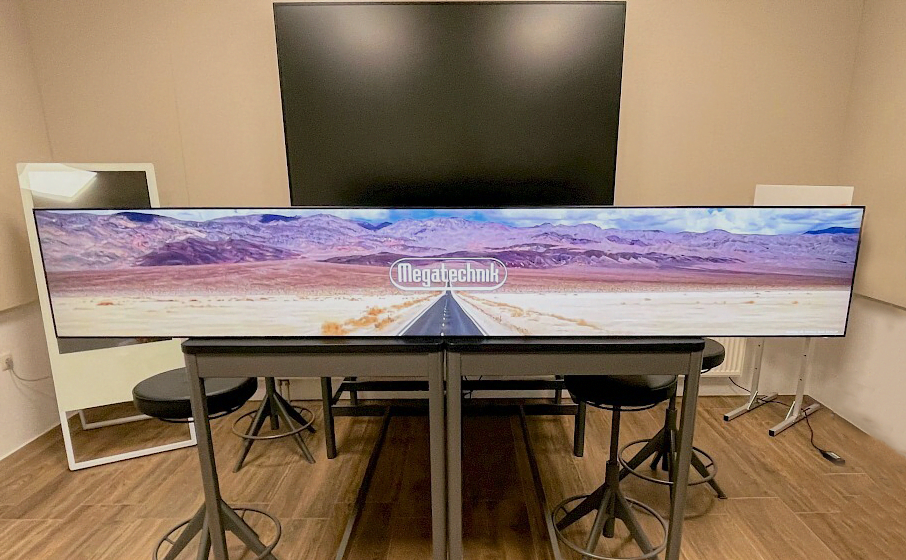 The versatility of digital signage
Digital signage interests mostly know how they will use the application. Some businesses seek new advertising channels, others want to improve employee communication. Thereby many overlook the opportunity to use digital signage versatilely. Even when your business, for instance, seeks to expand marketing channels there is still the possibility to use digital signage in other ways as well.
Every industry takes advantage of digital signage no matter if it's gastro, IT, entertainment, public transport or trade. As far as your business wants to digitize their existing processes, digital signage provides ideal solutions for a variety of demands.
Don't only consider advertising and employee communication when thinking of digital signage. The application possibilities go far beyond that. In this article we will present the versatile application areas of digital signage and what you need to consider for implementation. At the end, you can expect concrete examples of the application possibilities and how different industries use digital signage specifically.
Digital advertising billboard
When hearing about high resolution screens, most people think of expressive advertising. Regarding the usage opportunities in this field, that doesn't come as a surprise because digital signage applications are perfect for product presentations or to communicate important messages.
By using digital signage as advertising display, you will benefit from the following advantages:
Flexible media display in high resolution
Sensory based technique to display content based on the audience present
Detailed and informational product presentation
Interactive user experience to improve branding
Audio visually marketing with a special experience for all senses
In our article "Digital billboard: The modern way of advertising" we will go deeper into the advantages of digital signage as an advertising platform. Other than that, we will show concrete application possibilities and what you need to consider for outdoor usage.
Presentation medium
Thanks to the versatile design possibilities, digital signage is perfect for the next business presentation or to visualize new working processes. Due to the medial versatility there is also the opportunity to present product attributes or changes in the working plan.
Someone in your team has missed the last presentation? No problem! Record your presentation and display it as an explanation video on a screen.
→ Interview: FRAMR developer Lukas Aumair about digital signage
Source of information
You are probably familiar with the following situation: You go to a shopping center and look for a specific department. But you don't know the place. In these moments digital screens will help you to find the shops you are looking for.
Many think of digital signage in shopping centers as static wayfinding signs but you can also communicate information interactively and in real-time (e. g. through searching functions and integrated language recognition).
Digital signage also supports information exchange at the workplace, be it through the communication of working ways, changes, business news or fire safety instructions.
Your advantages with digital signage as source of information:
User friendly communication of information
Modern company image
Transparent communication on the workplace
Customer loyalty
The customers of FRAMR already use digital signage successfully and benefit from these advantages. You're welcome to take a look at our case studies to convince yourself of the versatile application possibilities.
Digital signage: Areas of operation
Doctor's office
Trade fair
Administration
Cinema
Tourism
Hospitals
In the FRAMR cockpit you will get further insights into the functions of digital signage and how your business will benefit from it.
Digital signage as an interactive communication medium
Regardless of the application, digital signage promises improved interaction with your target group. That makes your business more attractive and improves user experience. Furthermore you are given more creative implementation possibilities, for instance through sweepstakes or alike. Sebastian (marketing team FRAMR) describes his experiences with interactive digital signage elements as the following:
"When I visited a mall, that was about two months ago, there was an information terminal at the parfumerie. Through that, you could participate in a sweepstake and win a coupon which is worth 50 euros. The interesting thing about it: I probably would have not filled out a slip of paper but I participated through the digital way. That was primarily because of the appearance but also because of the progress bar when completing the single steps. I had the feeling that I completed something besides my participation. Digital signage is an eye catcher compared to a piece of paper and it improves the appearance. Businesses also appear more modern and it's more fun to interact with them."