HARDWARE AND SOFTWARE: DIFFERENCES AND CONNECTIONS
Software and hardware – two terms which are often mentioned regarding IT and digitalization. But what do they mean and what are the differences?
In this article:
Hardware and software: Differences and connections
The advance of digital techniques establishes new terms. To be honest, "software" and "hardware" aren't really new and have already been established in the language use about two decades ago but these terms come with several questions to answer. In the following article we will answer questions regarding hardware, software and their differences as well as future challenges.
What is software?
Most people associate the term "software" with computers and this isn't particularly wrong. But actually, software is a general term for all executable programs and their associated data. In many cases, software describes a script which on the other hand describes the functions and usage of a software controlled device.
The different types of software
The question regarding the definition also comes with the question if there are different types of software. Short answer: Yes, there is, many actually. Following, we will take a closer look at the different types of software.
Open Source
Open source is a free to use software. The source of this type of software is freely accessible and can easily be changed or adjusted. Known examples of open source software is LibreOffice.
Embedded software
Embedded software is a software which is recorded into hardware. The actual danger here is that once software is embedded it is not possible to change it afterwards. Therefore, the software must be flawless. Good example for this type of software are central heating systems – the software is installed within the hardware and functions are predefined. Updates or individual changes aren't possible afterwards.
Cloud based solutions
The biggest advantage of cloud based software solutions is the independence. Only a few years ago updates and maintenance needed to be done by the business the software was provided for but that has changed thanks to cloud based solutions. Central administration gives businesses the opportunity to be provided with regular updates without having to do them by themselves.
A good example for cloud based software solutions is digital signage – most digital screens are provided with cloud based software. Solutions such as FRAMR make working processes more flexible, individual and centralized. Centralized business processes save a lot of money in the long term and businesses can be sure that processes run reliably in the background and that performance will improve.
Packaged software
It's probably the most known type of software. Packaged software provides the same solutions for every customer and for every business with only a few changes possible. Good examples are Microsoft Word and Microsoft excel. The actual challenge of these programs is to be compatible with many different systems. Everyone knows the regularly required updates of windows which mostly serve the purpose to fix errors or similar problems – the actual goal is to improve performance but also to make adjustments regarding the compatibility of different operating systems.
The separation of the different types of software can be specified further – often the different types of software are categorized into standardized software, industry software and individual software. Standardized software is often used by many different businesses (bookkeeping software for example), industry software mostly provides solutions for niche businesses (commercial sector for example) and individual software is specifically developed for one or only a few companies.
What is hardware?
Hardware describes the physical components of a computer system and serves as a "tool" for functionality of software. One distinguishes between internal and external hardware. Internal hardware are the invisible components (the inside of a computer for example), external hardware on the other hand are all devices which are outside of a computer.
Examples for internal hardware:
Processor
Power Adapter
Random access memory
Hard disk
Drives
Graphic card
Webinar
You want to learn how digital signage, marketing and process automation work in FREE online webinars? Then be there LIVE at the next event!
Internal hardware is actually physical as well but not touchable from the outside like external hardware. For example, the hard disk is in the inside of a computer and serves the functionality of the device.
Examples for external hardware:
Screen
Printer
Computer mouse
Keyboard
Fax machine
What is the difference between hardware and software?
Software describes the non-physical components and the executable programs of a computer device. Hardware on the other hand helps the functionality of software – hardware itself doesn't have any impact on the functionality of a program but without hardware it's not possible or only partly possible to use software. This is where physical components such as computer mouse, screen and keyboard come into play to support the usage of software.
The difference between hardware and software through the example of digital signage solutions
The difference between hardware and software is mostly shown through the example of computers but there are several other devices which are perfect examples of the combined usage of hardware and software. This will give you another perspective and further insights into the topic.
Digital signage software describes the usage of digital-visual screens to display video and picture content in a compact form. Mostly, you will find digital screens in malls. The content is displayed through a central source – therefore it's usual that screens and programs are not provided by the same supplier because software can be installed into any screen device. A good example of the combination of hardware and software.
But one after the other. How does digital signage work if you consider the differences between hardware and software?
In the first step, software is important to display content on a digital screen. Our different FRAMR players fulfill these requirements because you can save, create and display content through them. It's a cloud based software solution because maintenance and administration in general are executed through the usage of a cloud. FRAMR players are internal hardware devices at the same time because there are no processors and storage devices within the player itself.
What appears to be complicated at first glance, requires many different working processes and a well qualified team of programmers. The requirements of a good interaction between hardware and software comes with many little steps within the working process and the consideration of high technical standards. Optical elements also play an important role when you display content to make a good user experience possible.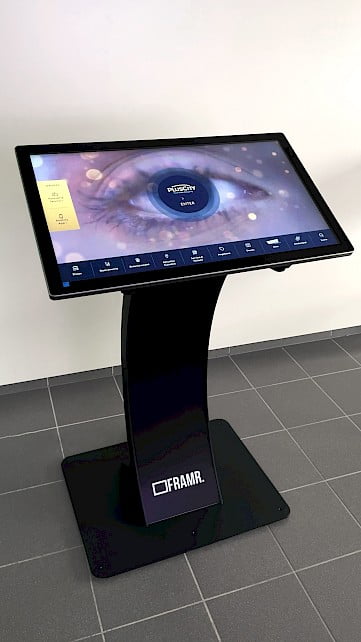 What are the challenges of hardware and software?
The change and progress in fields such as IT also changes the requirements of hardware and software. Especially the software area comes with many new challenges – the importance of data security increases and B2B customers especially want data secure solutions. But not only are legal aspects to consider, there is also a lot of work to do in technical fields.
Businesses prioritize individuality and flexibility as well as easy to execute working processes. Here, software providers are responsible to offer centralized solutions which consider individual wishes at the same time.
The area of hardware isn't directly impacted by technical changes. Technical requirements are to consider but even more important are the wishes of consumers and customers. Take screens as example: No business wants to use hardware which is on the technical level of 2015 – it must be modern but also better. The actual challenge lies within usage based elements (User experience, screen definition and easy usage of hardware for example).
Conclusion
The topic of hardware and software is a complicated one, especially because of the changing requirements in IT. There are many different types of software and what businesses want depends on the current events on the market. Currently, cloud based solutions such as digital signage software are highly demanded.
The choice of the right software depends on the goals of a business as well the individual requirements. Cloud based solutions offer the possibility to react fast on changes, packaged software is cheap and individual software solutions precisely fit the wishes and wants of a business (but are mostly much more expensive).
Pictures: © Canva.com