SOFTWARE DEVELOPMENT:
THE FUTURE OF MARKETING?
Software development has always paved the way for innovation and new trends. But what influence will it have on marketing in the future?
In the last two and a half years there was a change of direction in marketing and how businesses reach their audiences. I'm not talking about social media or paid ads here (although they did and do matter!) – no – I'm referring to the impact of software development on marketing and customer experience. And if you're only thinking of mobile games now, you will be surprised which possibilites are there actually and how businesses use them in the "post-covid" era to generate more quality leads and to reach a much broader audience. One thing in advance:
Creative software development solves one of the biggest problems businesses face these days and that is to win over and keep the attention of their audience as well as to improve user experience.
To be honest, digital transformation started long before covid but there are some things that have changed. Almost everyone with basic knowledge in marketing is aware of the impact social media or digital sales funnels have and software development is also involved in those methods. But do you actually know how software development is currently used to reach a broader audience? To generate more quality leads? Or to improve user experience? No? Don't be worried, I got the information you need!
Gamification for active leads
Nobody can't resist a fun game, right? Sure, in the introduction I mentioned it's not only about mobile games but we have to take a closer look to see the actual purpose behind this marketing strategy. Gamification isn't necessarily about playing a game, it's about creating an experience with a company in a game-like style. Some agencies offer "Software as a service" solutions to let clients create their own games to improve interactions with their target audience. The opportunities range from surveys to personality tests, memory or quizzes. These are excellent ways to generate leads and to keep up the interest of the ones who have already been in touch with a business. Especially small insurance offices or finance companies should take a closer look at gamification to make their services more appealing to a younger audience and to improve interactions with the business.
But not only small businesses take advantage of gamification. In fact, case studies of marketing agencies prove that regardless of niche, size or stage of sales funnel, gamification improves ROI and customer experience.
Digital Signage to boost attention and sales
Aren't you tired of passing by a shop and seeing nothing outstanding or significant? Maybe not but it's fair enough to say that many shops don't show anything outstanding when you pass them by. This might not be the case for any modern upcycling shops but definitely for clothes stores which have many competitors around.
Digital signage takes an innovative approach to solve this (and many other) challenges. Seeing a computer screen displaying content with high quality designs/pictures is much more appealing than seeing the products through a window. But this is just one advantage, the actual strength of digital signage is to use the KI to reach a broader audience.
Here is how it works: The attention span of a human being lasts not longer than 7 up to 8 seconds before we get attracted or reach out for something new – with digital signage, the opportunity to display new content after this time span is given and makes the target audience continuously curious about more information. One slide is shown for 7 seconds, then the next for 7 seconds and so on.
But that's not all: With the right software development, businesses can display content based on data around the target audience. Let's say, in the morning there are primarily people between the ages of 30 and 35 visiting the shop and in the afternoon there are mainly visitors between the ages of 18 and 20. After getting access to this data (through market research for example), businesses can use digital signage to display content how it suits the customer's wishes. When a business figures out that they reach a younger audience during the afternoon, they can set up the software to display content which fits the needs of this specific target group. It's the perfect combination of good appearances and target group oriented marketing.
Do you want to get further insights into digital signage and how it works? You want to know more about the functions and possible applications? Say no more! Just take a look at THIS page and you will figure out everything you want to know. FRAMR is a high quality software for digital signage and provides all kinds of businesses with functions to improve customer experience. BUT: That's not all because this is only one way to use the software. Just have a closer look, I'm sure you will be surprised about what you can do!
Food delivery apps as USP
Getting your food at home has been a thing long before covid but let's face it: All of us got their burgers or that nice selection of sushi delivered home in times of lockdown much more often than before. And this is actually confirmed by statistics which prove that big suppliers could raise their sales ever since the pandemic started. (see picture below)
Normally, restaurants use such third party suppliers to deliver their food but to stand out against competitors a new trend is rising: Creating an own delivery app.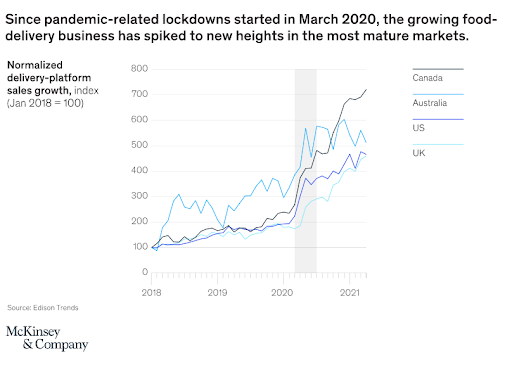 As already mentioned, it's not new that businesses launch their own apps. However, it's more common that restaurants rely on third party suppliers for delivering food because it's easier to reach a broad audience and costs less. But at the same time restaurants look for ways to stand out against their competitors which is why some gastros want to create their own delivery app.
With the rising competition it's important to find ways to improve customer experience and to boost reputation. Finding an outstanding unique selling proposition isn't easy for restaurants either, especially for the ones that don't offer a specific kind of food or unique services. Because of that, they often rely on promises regarding price and good taste. But let's be honest, these are promises which are given by the majority of restaurants.
Providing an application to deliver food is a great way to create an unique experience which is why some small restaurants already rely on it. Expanding reach and winning over customers' attention for the app might be hard at the beginning but once you get on track it's a great way to build customers loyalty and to provide them with special rewards to even compete with big third party suppliers.
A future perspective on software development in marketing
Ever since online marketing has been a thing, software development has had an impact. I'm not only talking about trends and the big changes as mentioned in this article, I'm also referring to all newsletter automation services or tools that help to improve customer experience. This is by far the biggest advantage of marketing software: The impact on the customer. If you consider the rising competition and the shortening attention span of people, businesses have no other choice but to find ways to improve customer experience and to win over the attention of their target audience. Social media and a stunning website take care of that too but with the given possibilities in software development there is just much more possible. And good user experience often means getting a good ROI, which is something all businesses strive for.
To answer the opening question about the future impact: Creative ideas will always do something good. No matter if it's for businesses or their customers. In the next few years we will be introduced to new trends and tools which is why the best advice I can give is to stay tuned and be ready for change. Not all businesses will equally take advantage of all software applications but chances are high that companies which dare to apply new ways of doing things will stand out and ensure a stronger position on the market.
You think you don't need those strategies?
You don't think the mentioned trends won't help your marketing strategy in any way? Then you better give it a try! It's easy to say "my clients don't have any experience with that" or "Nobody needs that" before actually trying it. It's a common practice on the market to present something and only THEN it will be mentioned. So, who cares if none of your competitors hasn't used one of the strategies from this article yet? BE THE CHANGE and strengthen your position on the market.
Now get out there and offer (potential) customers something they haven't seen or experienced before!