The video modules from FRAMR. Signage at a glance
https://framr.tv/wp-content/uploads/2023/11/video-module-digital-signage.jpg
994
537
Sebastian Loos
https://framr.tv/wp-content/litespeed/avatar/f9fb9a01fddcc99edfd46ff081cb0c4c.jpg?ver=1701782940
The video modules from FRAMR. Signage at a glance
The video modules from FRAMR. Signage at a glance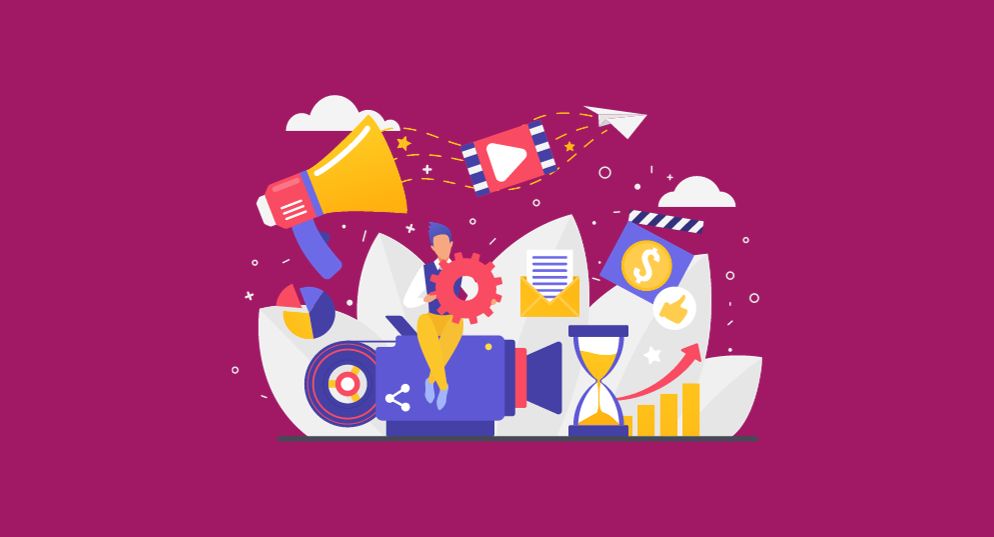 In this article:
The video modules and their areas of application

Configuration with FRAMR. Signage

Video content ideas

The advantages at a glance

Tips for video creation

Give your target group what they want
Videos have become one of the most popular content formats in recent years. Whether short TikTok videos, informative YouTube tutorials or appealing image films. In the field of digital signage, the tourism and automotive industries in particular are benefiting from this, as well as the hospitality and real estate sectors and many others.
Videos are not only appealing, they also have an impact. According to a study, we can process videos 60,000 times better than text. It is therefore hardly surprising that we are seeing more and more digital signage displays with videos.
In a nutshell: How can you use FRAMR. Signage for video content?
FRAMR. Signage can be configured with various modules, including TikTok, YouTube and live stream applications. During implementation, you can use the modules for image films, advertising clips, short films, testimonials, live streams and tutorials.
Below you will learn
how to use different video modules in a targeted manner,

how they can be configured with FRAMR. Signage are configurable

and the benefits for your company.
The video modules and their areas of application
Video
The classic video format enables playback of MP4 and WEBM. Upload the video of your choice to the player and configure the playback times and duration according to your requirements. For example, you can shorten a video or play it at certain times.
TikTok Videos
With this module, you can reach visitors and customers in an entertaining way. Especially recommended for companies with a younger target group. You can easily integrate and play TikTok videos via the cockpit.
YouTube
Similar to the TikTok module, you can embed YouTube videos via the cockpit. The video must be publicly available and must not be subject to any country restrictions.
RTSP video stream
You can use the RTSP video stream module to start your own broadcast channel directly via digital signage displays. For example, to create a live information channel and to broadcast events or promotions.
Video input
The video input module enables the playback of content recorded via webcam or other sources. Simply connect the end device to your FRAMR. Player and then add the module to a playlist via the cockpit. Video playback begins by automatically recognizing a recording device.
Video stream add-on
This module allows users to add video streams from the FRAMR. Add-on streaming server in a playlist to create engaging displays for an immersive experience.
NDI video stream
NDI, short for Network Device Interface, allows you to stream high-definition video over a network of devices. No hardware or complex signal routing is required.
Configuration with FRAMR. Signage
The FRAMR. modules can be integrated via an intuitive, easy-to-use drag-and-drop system. In the application, you can add and arrange content as you wish. Select the respective module and then configure it with the content – you can test this process for free here.
-> You want to know ALL the requirements for the successful use of digital signage? Then we recommend our article "7 important requirements for using digital signage"
Video content ideas
Image videos

Promotional clips for events

Atmospheric content (e.g. landscape videos in a travel agency)

(Animated) short films

Tutorials

Testimonials and customer reviews (e.g. in the form of interviews)

Music videos

Live broadcasts (e.g. events or information for employees)
You are welcome to be creative in the implementation. For example, you can use short TikTok videos as a pitch to promote a product or service.
The advantages at a glance
More attention
Videos arouse our curiosity and are more memorable. Not to mention that they attract much more attention than posters or images. Our marketing freelancer Sebastian reports:
"The other day I went to the local Opel dealer to get leasing offers. There was a digital signage info point in the sales area. An image film of a new model was played on it. This immediately caught the eye and made a much better impression than the advertising posters you find elsewhere. The cars are better presented and emphasize the appearance of the brand better.
Better brand image
Brand is a good keyword here. With videos, more information can be conveyed, creating a coherent overall picture. Nobody remembers the advertising poster of the pragmatic SUV – but everyone knows the commercial with the gentleman who sings "Another one bites the Duster" as the Dacia drives past.
The reason for this is the emotional component of videos. If our senses are stimulated by moving content, we find a personal connection more quickly.
When creating videos, make sure that the content and editing match the tone of your company. In terms of color, videos should reflect your corporate identity and the content should appeal to the needs of the target group.
Multi-channel marketing
By integrating TikTok and YouTube videos, you can play out viral content via digital signage. This expands your team's target group communication via an additional channel. It also saves time, because if you already use existing social media videos, you don't have to create new ones for digital signage.
Real-time customization
Digital signage gives you maximum flexibility. The image film has just been finished, but absolutely has to go online? No problem! Your team can adapt the content in real time and make changes.
More interactions
The curiosity-awakening properties of videos promise more interactions. Be it through direct actions via interactive signage displays or because your offer gains more attention through videos. Visually appealing screen designs motivate the target group to take action – the informative level also plays an important role here, as it is easier to communicate conditions of participation, for example, via videos than with static images.
Competitiveness
More and more companies are utilizing the strengths of digital signage. Although no current figures are available, as industry experts we are aware of the demand in this area. In certain sectors, such as tourism and automotive, the use of digital signage applications is already widespread.
In the long term, digital signage will develop into a competitive factor. Those who neglect the trend risk a stale brand image and losing out to the competition. This is also because digital signage facilitates decision-making and dialog with the target group – if potential customers know that it is quicker and easier with the competition, they will lose interest in your offer.
-> Would you like to know what opportunities you are missing out on without digital signage? Then we recommend our article on the benefits. You should also take a look at the various application scenarios to identify industry-specific strengths.
Accessibility
Audio is not mandatory for videos, but it does have advantages in terms of accessibility. The combination of visual and audio content makes it easier to communicate with people who have visual or hearing impairments. You can also add subtitles to expand the communication options.
Subtitles are also useful in other situations, for example when displays with informative videos are located in the immediate vicinity of employees. Audio playback is distracting in such an environment.
Tips for video creation
You may have videos created by an external provider or already have someone on your team to do this. If you are taking care of this yourself or have yet to create a position for video production, we have the following tips for you:
Equipment and light
You don't have to invest €3,000 in a camera, but you should attach great importance to quality. A suitable lighting set-up is also important, for example 3-point lighting. We also recommend a separate microphone for better audio quality if you are recording yourself.
Video and audio editing
A good video not only lives from its content and story, but also from effects and good sound. With programs such as Adobe Premiere Pro, it is very easy to use a variety of effects to improve the impact of the video. For example, slow mode and transitions. It is also possible to adjust the color, playback speed and audio.
Use stock videos
Platforms such as Adobe Stock or Artlist provide videos for free, commercial use. Stock videos are not suitable for every format, but they are definitely recommended for atmospheric content or entertainment. Depending on the company and industry, you can also use stock content for image films.
Use templates from Canva
Canva has become one of the most popular design tools in recent years. Unlike Adobe applications, you don't have to create anything yourself, but can use templates. This makes video creation easier, especially if you have little experience.
You can easily download the content and integrate it as an MP4 into the FRAMR. Cockpit as an MP4.
Give your target audience what they want
To use digital signage videos successfully, you should always consider the wishes of your target group. Content has the function of appealing to needs or facilitating purchasing decisions. Alternatively, companies use the strengths of digital signage to improve employee communication or to strengthen their brand image. Know your individual goals and align your digital signage strategy accordingly.
However, you should also keep an eye on industry standards and find out how your competitors are using digital signage. This will make it easier for you to recognize trends and shorten test phases.
FAQ
Finally, we answer frequently asked questions about digital signage software.
FRAMR: The innovative solution for your business
As experts, we develop high quality digital signage solutions for b2b businesses. The possible applications range from advertising to customer interaction. In doing so, we pursue the goal of improving digital structures of companies and modernizing their image.
Your advantages with FRAMR:
✔ Years of experience
✔ Highest safety standards
✔ Innovative technology that promises quality
✔ GDPR compliant solutions
✔ Cost transparency
✔ Great service
✔ User-friendly applications
Contact us today to secure a no-obligation offer that fits your strategy. Our team of experts will provide you with helpful advice and support in the area of digitization.