Interactive digital signage for a better user experience
In this article we present the advantages and application scenarios of Interactive Digital Signage.
Interactive displays with touchscreens expand the application areas of digital signage and promote communication with customers, employees and visitors. In addition, the displays support the creation of efficient communication structures with centralized information transfer.
Interactive displays present themselves in a modern and intuitive way and support independent navigation. This saves your company important resources and improves the user experience.
Interactive Signage for sales promotion
Interactive Digital Signage enables independent navigation by customers. When searching for specific products or store departments, touchscreen displays offer an efficient solution for navigation. Prospective customers can get more detailed information about products or configure them independently according to their ideas. Intuitive step-by-step processes and a visual presentation in individual branding also leave a lasting impression on your target group.
However, these advantages are not limited to exchanges with customers. Public authorities, educational institutions and the healthcare sector also benefit from interactive signage. For example, the applications help to find a specific book in the library or support visitors in navigating in hospitals.
New communication structures
Digital signage improves existing communication structures in the company, because information is displayed transparently on various screens. With interactive signage solutions, employees also have the option of independently retrieving information and registering for events.
Interactive Digital Signage also offers industry-specific advantages for companies. Restaurants or cafés take orders from their guests, and in the real estate sector, prospective customers make an appointment to view the premises. In a trade fair building, the applications are suitable for visitor navigation and in the event sector, tickets can be purchased on the spot.
Companies not only save resources with digital signage, but also improve their brand image. With the various design options, your company will be better remembered and present itself in a modern way. The visual elements inspire your target group to take more action as well.
The easiest way is often the best – you don't have to use digital signage for sales or bookings. Even a nice, interactive image gallery or explanatory videos (e.g. on the origin of sourced food) leave a good impression.
Also for complex requirements
Digital signage solutions by FRAMR. meet high standards and are therefore also suitable for use in industry or for internal communication in large companies. One example is our customer "Attensam Hausbetreuung Salzburg". The company uses digital signage for employee information regarding safety information and news.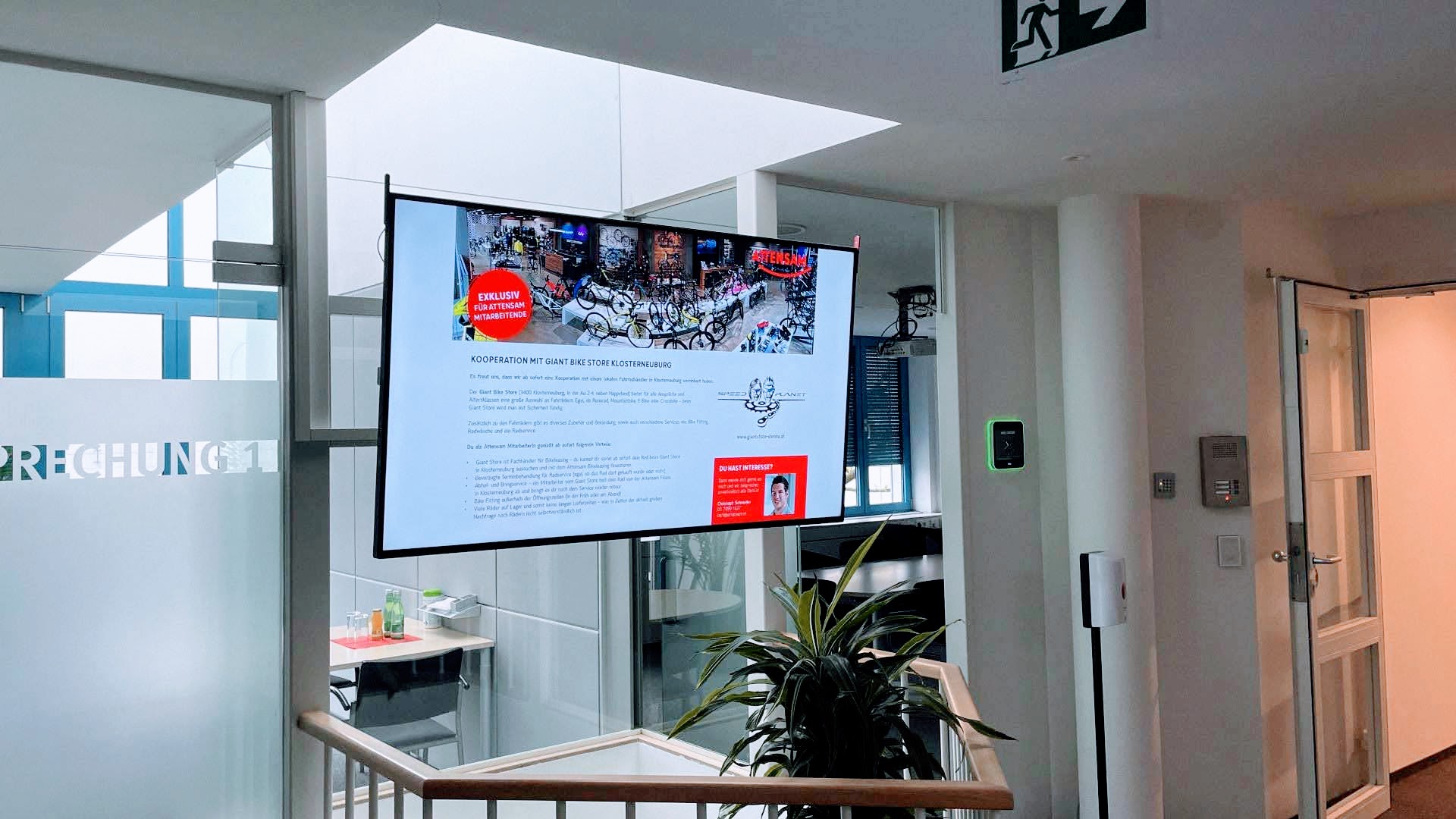 If you are looking for a special solution, you can always contact us.
High quality displays are robust and safe from vandalism. That's why outdoor signage is also an option for selected companies. The railroad industry and its ticket vending machines are a good example. Personnel are not needed for ticket sales, the machines are freely accessible and require little maintenance.
Gamification for better user experience
An often overlooked strength of digital signage applications are the possibilities in gamified interaction. With free design options, you can create sweepstakes or surveys, for example, to learn more about your target audience and their preferences.
Gamification elements can be used not only for sweepstakes, but also for general dialog with customers. For example, insurance agencies can create surveys to offer a suitable rate to participating prospects. Independent product configuration in the trade is also possible.
-> In our article "10 compelling ideas for gamification", we go into more detail on gamification and show you practical examples.
Ideas for the use of Interactive Digital Signage
Interactive navigation and directions

Route planner

Configurator for products

Information terminal (e.g. for product features)

Placing orders (e.g. in a café)

Patient information in hospitals

Create raffles and surveys

Ticket purchase for events, concerts or bus and train rides

Picture galleries

Opening hours and alternative locations if currently closed (e.g. pharmacy + emergency service)
Information for associations, e.g. trade association in localities, which jointly market other participating partners at different locations.
You are completely free in the implementation. Design content according to your ideas and adapt it to your individual branding. Let your creativity run free and use videos, images or other modules to design the content according to your ideas. Our team will also help you find the right locations for interactive digital signage applications.
FAQ
Finally, we answer frequently asked questions about digital signage software.
FRAMR: The innovative solution for your business
As experts, we develop high quality digital signage solutions for b2b businesses. The possible applications range from advertising to customer interaction. In doing so, we pursue the goal of improving digital structures of companies and modernizing their image.
Your advantages with FRAMR:
✔ Years of experience
✔ Highest safety standards
✔ Innovative technology that promises quality
✔ GDPR compliant solutions
✔ Cost transparency
✔ Great service
✔ User-friendly applications
Contact us today to secure a no-obligation offer that fits your strategy. Our team of experts will provide you with helpful advice and support in the area of digitization.