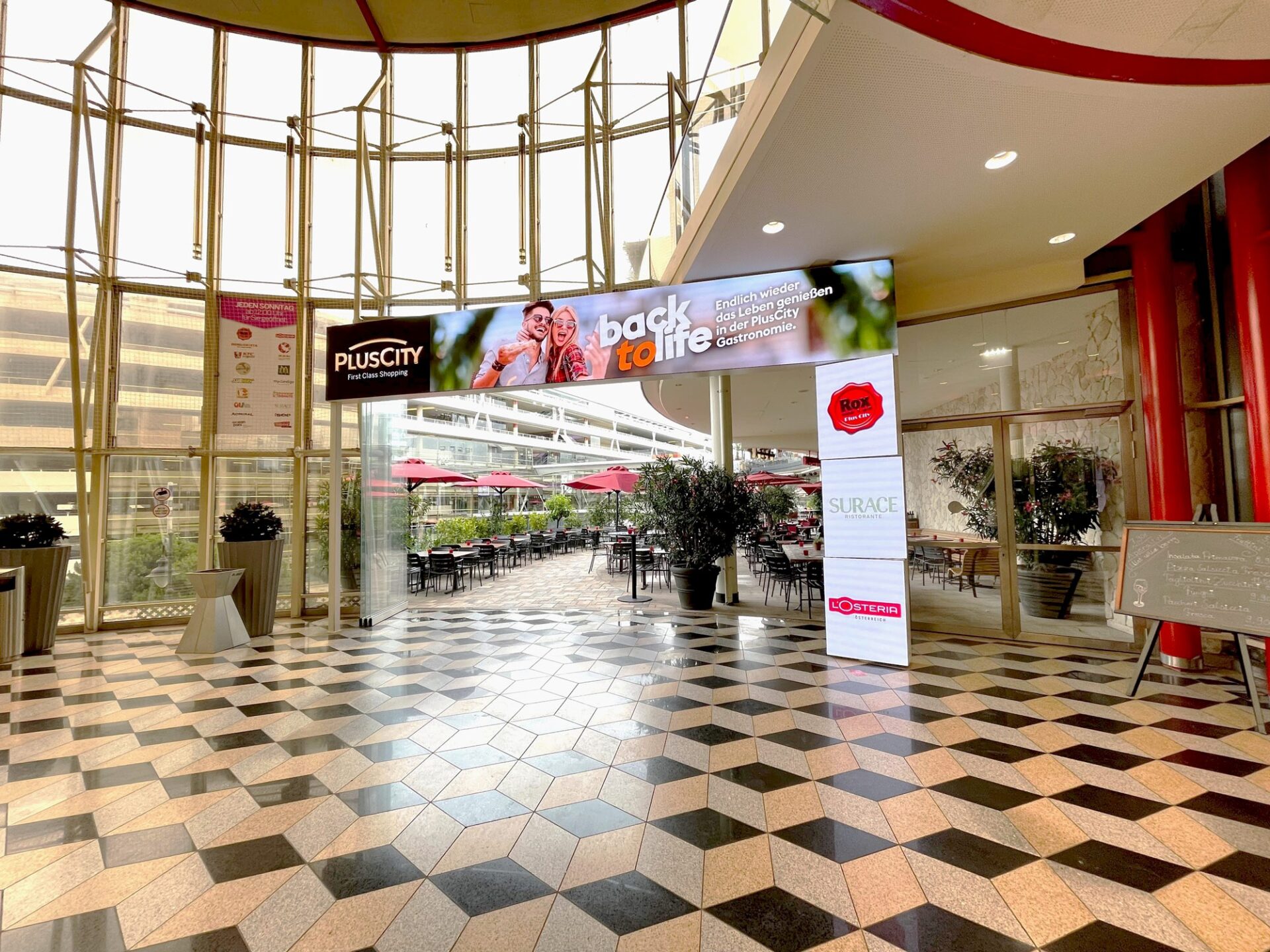 Have you ever wondered why YouTube Reels and TikTok videos do so well? It's not because of the content or because these channels/formats are trending, it's because the videos are barely longer than 30 seconds. 
We always want more variety and new things in the media world – that's also one of the reasons why more and more businesses invest in digital signage. The flexible display options combined with the wide variety of designs enable the same effect as short videos and draw attention to your company. 
But these are by far not the only advantages of digital signage. They range from process optimization and modern marketing to user experience. We thought: Let's pack the most important statistics* into a blog article and let the numbers speak for themselves! 
*At the end of the article you will find all sources for the statistics. 
Visual is simply better
Beautiful, visual layouts are an important component for successful targeting. The popularity of social media channels can be explained by the fact that visual elements like images and videos are better remembered than text alone. Digital signage is also a visual medium and this promises your business corresponding advantages in addressing target groups. 
This is also proven by statistics: 91% of consumers prefer visual elements over text content or want images/videos to complement blogs. 
Let me entertain you!
Lunch at the fast food restaurant simply tastes better when live streams or music videos are broadcast. After all, the whole thing contributes to a good atmosphere. And this plays an important role for customers, because more than 80% also judge a company by its appearance.
In terms of presentation, digital signage is convincing all over the place. Hardware in different, high-quality resolutions and versatile possibilities in content creation promise a great feel-good atmosphere.
Interaction is fun and drives sales
You can combine digital signage with gamification elements to encourage user interaction. You don't necessarily have to create quizzes; surveys at info terminals are also well received. Statistics prove this too: In the U.S., 30% of 16- to 24-year-olds report a positive experience with gamification. 
Other statistics show that the use of gamification elements improves playful interaction with the target group as well as customer acquisition. While these benefits do not relate directly to digital signage, it does show the impact that gamified interaction has on target audiences. 
Digital signage promises a good user experience
In 2023, user experience is on everyone's mind. A mix of beautiful designs, easy-to-understand content and accessibility add up to one of the most important requirements for businesses. Even Google updates its quality guidelines regularly to ensure websites are pushing user experience.
Statistics show that approximately 94% of users form their first impression about a company based on its web design. This confirms how important it is to have a modern, but also appealing look. However, this statistic doesn't just refer to the design, otherwise it wouldn't be about the user experience. Rather, it's about the overall impression, including how easy a website is to use. If we transfer the whole thing to digital signage, we come to the same conclusion, because it is much easier for target groups to interact with companies.
Here are a few examples:
In shopping malls, visitors can navigate easily.

Cinemas give out numbers for orders and through digital signage these are displayed to tell visitors they can pick up their snacks. 

In trade fairs, digital signage applications can show the way to different halls.
Not only your target group benefits
Investing in digital signage applications has benefits for your target audience, but also for your business. Processes are automated, adjustments are made in real time, marketing test phases are shorter and you are more flexible overall. This results in long-term cost savings, modernization of your business and advantages in competition. 
To illustrate the advantages for businesses, let's take the example of gamification again. Through individually created surveys, your company gains more information about the wishes and suggestions of its customers. In turn, you can use this to optimize existing processes and improve both your offering and your service. Ideally, you combine the benefits for your target audience to ensure advantages for your company. 
Can't traditional marketing do that too?
When we present the advantages of digital signage, we should accordingly draw a comparison to classic marketing methods. Here, however, it is clear that digital signage emerges as the winner. 
The real challenge of e.g. posters is to update them regularly. Via digital signage applications you have access to your content at any time and can adapt it in real time. The effort behind posters or magazines is much more complex. In addition, visitors can't navigate as easily. 
The comparison between digital signage and classic advertising methods should not only be viewed from the perspective that one measure is better than the other. Rather, it's about the benefits for companies. Digital signage is flexible, user-friendly, accessible, interactive and state-of-the-art. There may be companies that don't benefit, but those are few exceptions.
We don't need to draw the comparison between digital signage and other online marketing efforts like blogs or social media. After all, they complement each other. Through RSS or social media modules you can display postings through digital signage applications and give them more reach. 
Away from the numbers: What does digital signage look like in practice?
Let's move away from statistics and give it a more practical approach. Below we present you a few pictures from existing projects to let digital signage have an effect on you and bring you closer to the atmosphere:
If you want to know more about it, take a look at our Use Cases. You can expect more ideas for the practical implementation of digital signage. Of course, you can also learn more about the application possibilities and how your business can best use digital signage.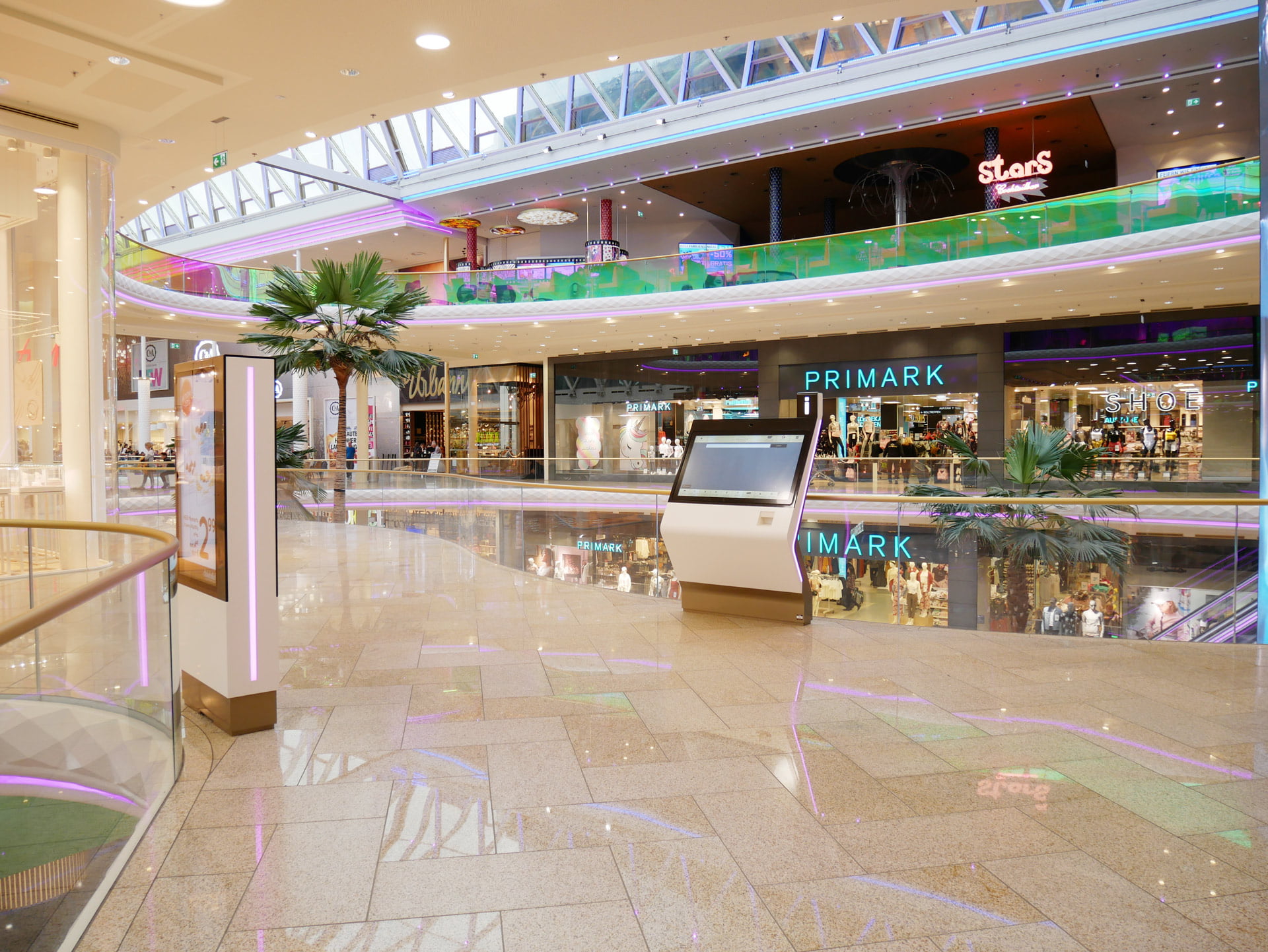 Conclusion: User Experience is King!
In our digitized world, user experience takes on an important role. With applications like digital signage, it's no different – your target audience wants a modern look and flexibility, while at the same time the applications should be as straightforward as possible and offer variety. Many companies have recognized this and are therefore increasingly saying goodbye to classic advertising measures such as posters or customer stoppers.
Sources:
https://www.lxahub.com/stories/gamification-in-marketing-stats-and-trends-for-2022
https://tech.co/digital-marketing/visual-content-marketing-statistics#:~:text=91%25%20of%20consumers%20prefer%20visual,content%20or%20landing%20pages%20(Venngage)
https://www.helpscout.com/75-customer-service-facts-quotes-statistics/