Videos are positioning themselves as the undisputed number 1 among the various content formats. There's a reason why YouTube ranks second among the most popular social media channels and formats like Instagram reels or TikTok videos are becoming increasingly popular. 
So why not use these strengths for your own business? Digital signage enables high-definition video playback and engages the human eye with varied content. But there are even more reasons for using videos via digital signage – we'll explain which ones in this article.
Visual content works 
Researchers confirm that we process videos almost 60,000 times better than text. So it stands to reason that videos leave a good impression on the target audience and are better remembered. This also shortens the path to a purchase decision, because potential customers remember your content better and therefore need fewer touch points with your business before making a decision. 
Videos tell a story
Your business pursues specific goals with content. This doesn't just mean objective metrics like website traffic, but also what impact the content is having. This is also about influencing what your target audience wants. And what better way to do that than with videos that tell a story and are structured according to the principles of storytelling? 
Your application possibilities with FRAMR. Signage goes much further than storytelling or advertising. Our software promises targeted brand communication and also the playback of testimonials or information about events. You can also provide insights into your business or present social projects. 
Videos are better remembered
Videos appeal directly to your target audience. But more important is the personal aspect – with videos you give your brand a voice. This makes it much easier for (potential) customers to identify your business in a competitive environment.
Personality and individuality will be very important in 2023, because in a growing market it is not necessarily the best products or services that win through, but those that are best remembered. That's why more and more companies are investing in visual content to secure competitive advantages and interact better with their own target audience. 
The short attention span
Our attention span is getting shorter and shorter and at the same time, content communicated via videos is easier to understand. Add that to the already mentioned advantage that videos communicate messages more efficiently. Optimize this experience even further with background music or images in your corporate identity and you create an experience that will be remembered. With the right content, you can reach a lot of people and therefore win more new clients. 
But digital signage also promises you some advantages in corporate communication. Videos as a presentation medium increase the attention of your audience and convey core messages much more efficiently or underline your statements. 
With the applications of FRAMR. this effect is intensified, because digital signage itself is a real eye-catcher, whose strengths only few of your competitors use. Combined with videos, your business presents itself with a modern appearance that leaves a lasting impression.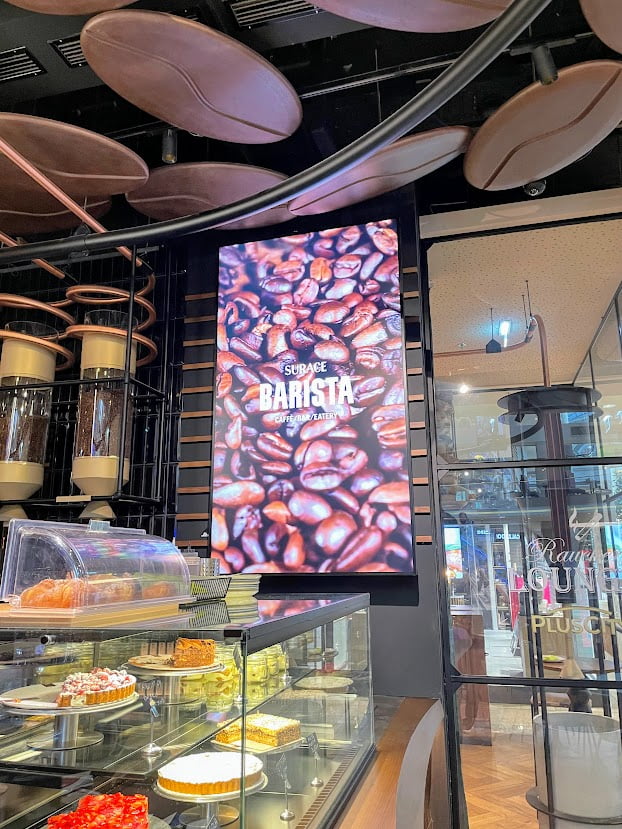 Personality? Yes, please!
Videos bring us closer to a brand. We relate to the products of companies and feel connected to them. This has the nice side effect that videos are shared. We recognize in them a personal added value or a message directed at us and are happy to share it accordingly. 
Businesses with personality position themselves more strongly among the competition in the long term. Test it yourself: Visit ten different websites and ask yourself which ones are best remembered. We guarantee that websites with a lot of visual content, especially videos, will leave the best impression and you will relate to the companies faster. 
Use the power of humor and other emotions. Videos alone do not put the personal component in the center, but a combination of emotions, color elements and targeted messages.
Your business saves time
Creating videos doesn't take long. 60-second content conveys more information than long texts or picture spreads. This is a win-win situation for content creation, because your business saves resources and at the same time potential customers are addressed in a targeted manner. 
With digital signage you are flexible and can play videos across multiple channels. If your business is active on YouTube or TikTok, for example, the videos from your channels can be easily integrated via the FRAMR. digital signage application.
Pleasant stay
Doctor's offices use digital signage to broadcast the TV program or their own videos. This is a great way to bridge the long waiting times. Patients perceive their stay as pleasant and this also improves the image of the doctors office. 
Videos promote interaction
Imagine the following scenario: You are walking in a mall and a digital signage terminal catches your eye. The video played on it invites you to take part in a survey and promotes it with a coupon that is raffled off among all participants. Will you take part?
Maybe you're not the type to participate in surveys, but we're all about comparison to other content formats. As an alternative to video, flyers remain, for example, but they are invisible in comparison – they don't seem inviting and most people don't even notice them. 
With digital signage, it's a different story, because the high-resolution applications arouse curiosity. Combined with videos, your business benefits from an eye-catcher that promises more interactive possibilities (e.g. through gamification). 
You strengthen your branding
Videos are an excellent presentation medium and you can use that for your brand. Combine your target audience approach with the corporate identity and you get a strong medium for the modern representation of your business. 
The following video communicates our brand and gives you an insight how the company presentation can be combined with the product preview.
How to use digital signage for videos successfully
As mentioned at the beginning, short videos are well received. Our attention spans are getting shorter and shorter, and that explains why TikTok videos, YouTube shorts, and Instagram reels are so popular. But it's not just the length of the videos that matters, but what your target audience wants. Product presentations can be a bit longer, as can videos with tips and tricks. 
So don't just think about the length of the videos, but also about the wishes of your target group and pay attention to meaningful content. Short videos don't offer any depth of content and that can also be a disadvantage. So better focus on the formats. 
Below we present you a few ideas to successfully use digital signage applications from FRAMR. for videos: 
Product presentations

Employee communication

Advertising

News

TikTok and YouTube videos

Use Cases

Information

Presentation of current projects

Insights into the working environment
Do you have questions about the application possibilities of digital signage and would you like some non-binding advice? Then contact us, we are happy to help you!