How do businesses expand digital competence? In this article we will answer questions about digital skills and how to teach your employees properly.
In this article:
The most important in a summary
Digital competence has become increasingly important in the world of work.
Ideally, businesses aim for a step-by-step execution in which all employees are equally involved.
Analogue processes become less important but a complete digitization of existing structures will take time.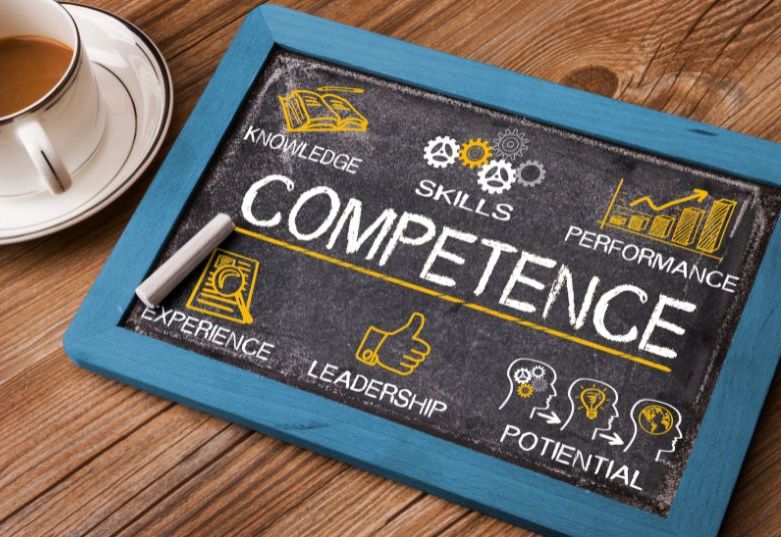 Digital competence definition
The term "digital competence" describes all required skills to use computers and other devices as well as to manage and process information through these devices. That includes the successful usage of specific applications to edit, save and publish content.
For a long time digital competence was limited to answer mails and to use office applications such as Word or Excel. But in 2023 the requirements are much higher. Cloud applications, online meetings and digital administration determine the daily life of office employees.
The expansion of digital competence requires a holistic approach which doesn't only consider the skills of your employees but improving existing business structures too. Keyword: Digitization.
Ideally, businesses aim for the goal to encourage the knowledge of their employees as well as the renewal of existing structures. Without expanding existing structures, digital competence has no value. On the other hand employees don't know how to use digital ways if they don't acquire relevant know-how.
How important is digital competence?
More and more employees work from home and use the possibilities of digital communication on a daily basis. That is one of many reasons why the expansion of digital competence becomes more relevant. Businesses are responsible to encourage their employees to work more efficiently and to establish smooth working processes.
The right handling of digital applications has not only gained in importance in recent years. Already in a survey of 2018, 71 percent of managers said they want to open up new ways of income by using digital ways. The covid pandemic has further spurred this trend, as online retailers in particular have increased their sales.
→ Competence expansion goes hand in hand with the expansion of business structures. Every expansion or adjustment of processes requires adequate know-how.
The 10 most important digital skills
Digitization affects almost all company departments and they all require different skills. Therefore, there is no such thing as the "one" skill but rather a variety of many competences. Including the following:
Search engine optimization: Essential to improve the positioning of a website. Without SEO a website will disappear in the "google nirvana" and possible competition advantages remain unused.
Social media marketing: Platforms such as instagram, pinterest or linkedin have developed to profitable sales channels for businesses in the past years. That is even confirmed by statistics: In 2021 businesses earned more than 150 billion euros through social media.
Web hosting: That includes management of a website, blog or online shop. Web hosting is not only about uploading new content or creating new sub pages for a website, it's also about evaluating statistics to improve performance.
Content production: Social media won't ensure growth if businesses post low quality content. Possibilities in content marketing reach from picture design to video production.
Digital communication: The usage of applications such as zoom or google meet belongs to the basic knowledge of all employees.
Product management: Develop, manage and market digital products. Hereby many businesses focus on lead generation by offering digital products for free, so called "freebies".
User experience: It takes 50 milliseconds until website visitors get a first impression. Many businesses ignore user experience because they primarily focus on technical requirements (e. g. SEO). However, the target group should always be the number one priority.
Cloud solutions: Using applications such as google docs makes it easy to share data and saves time as you don't have to send mails with attachments.
Service and customer management: Data banks and customer relationship management systems simplify the management of customer data and reveal more about the wishes and desires of your target group.
Programming: The king discipline among digital skills. There are thousands of programming languages but the most known ones are PHP, java and python.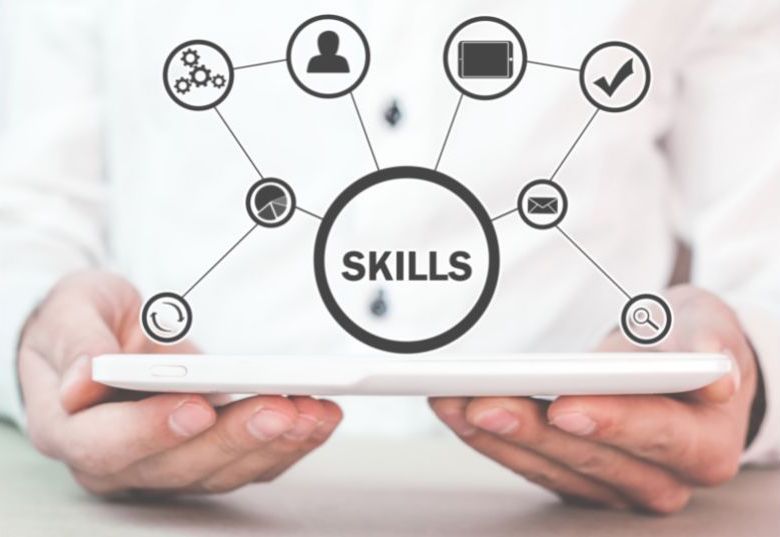 Build up digital competence: Our 5 step guide
To successfully promote the digital skills of your employees, you need to take measures but also consider hurdles and possible challenges. We have prepared the following guide for you so that the implementation is successful. It will help you to encourage the digital competence of your employees in just five steps.
Know the needs of your team and your business
The expansion of skills costs resources, especially time and money. That's why the first step requires a plan and a goal oriented needs assessment.
Let's come back to the ten digital skills: Almost every business takes advantage when it schools its staff in the area of digital communication or service. However, it doesn't make sense for businesses to invest in programming knowledge. There are only a few businesses which take advantage of this kind of internal know-how.
The following questions will help you to purposely determine your businesses needs:
In which industry is our company active?
What goals are we pursuing?
What is the current level of knowledge of our employees?
To what extent do we benefit from the development of digital competence?
What knowledge and skills do we source externally?
What are the costs associated with expanding digital skills?
Are employees we train for specific areas likely to stay with the company longer?
Recognize the value of further education
Sure, further education is a purposeful way to expand the competence of employees. But it's even more important to invest in the right measures. Online platforms such as Udemy can indeed provide valuable knowledge but on such websites are also course suppliers who don't even understand their own profession properly. Hereby it's better to consider other sources, even when they are more expensive. Get back to expert knowledge to school your employees as well as possible. Sure, that costs more at the beginning but ensures a purposeful investment in the long term.
Sure, there are also ways to get free access to know how. Platforms such as LinkedIn or YouTube provide a variety of possibilities for further education. Especially in the field of digital communication, cloud usage and user experience it's not necessary to invest in expensive education measures to school employees properly.
Obtain external knowledge
In many cases it's much cheaper and more sustainable to get back to external knowledge. One example is building and maintaining the business website or programming an app.
Businesses also have the possibility to combine internal and external knowledge. Here, the business website is again a great example: External web designers or programmers promise a purposeful investment because their expertise, including the areas of social media and SEO, requires years of project experience. In turn, employees can manage and maintain the website. But also other tasks such as entering new products in an online shop don't require external knowledge for execution.
Through a cost-benefit analysis businesses determine the goal oriented usage of their budget and such a consideration is to be used for each investment. But as a rule of thumb we recommend the following: Big projects, for example building the business website, are better given into the hands of external experts. It requires too many resources to properly teach employees how to do it. In turn, it is cost wise more reasonable to, for example, build social media channels with an internal team.
Don't get lost into details
Expert knowledge ensures advantages in competition and more growth possibilities but in many cases the basics are completely enough. Your business doesn't need professionals who know every single detail function of Google Docs or Google Meet. Knowing the basic requirements is enough. Therefore, don't only consider which measures are purposeful but also to which extent.
Consider current trends
The term "digital transformation" describes the current situation perfectly: We are in a constant transformation which doesn't allow standstill. That also means that our level of knowledge is constantly sinking. Who would've thought that we would use social media channels such as TikTok only a few years ago or that the stationary trade will focus more on e-commerce. But it is exactly these unpredicted changes which bring businesses into the position to find ways to expand their employees' knowledge. The expansion of digital knowledge is not a one time project but a long term process. Therefore, initiate steps to ensure a long term expansion of knowledge.
Possible hurdles and challenges
Executing a plan is not a one-way street. When expanding the digital competence of your company, some hurdles and challenges might be in your way. Including the following:
No unified level of knowledge
Personnel fluctuation
Growing requirements
No unified level of knowledge
Further education, as purposeful as it is, comes with a major weakness: The educational content is aimed at several people at once. As a result, some employees have too low or too high a level of knowledge. Beginner oriented training provides no value for advanced employees, on the other hand, programs for the advanced are no good approach to introduce newcomers to a topic.
Solution approach: Don't only consider training programs for all employees. Instead, help your staff to find suitable mentors to expand strengths individually.
Personnel fluctuation
Qualified employees can choose between many employers on the market. This also increasingly reduces operational loyalty. This is a big challenge for companies as they lose internal knowledge when employees leave. As purposeful the investment in the knowledge of employees is, it might not have any long term advantages because other companies appear more attractive.
Solution approach: Don't forget to prioritize the expansion of a positive working climate. Employees aren't just human resources, they are human beings who belong to your business. You can't avoid job changes completely but you can initiate measures to make your business more attractive to employees to make them stay.
Growing requirements
Digital progress promises solutions and makes business processes easier. However, requirements regarding operation, administration and editing grow too. That on the other hand requires higher investments in training and the expansion of competences. There is no doubt that the expansion of digital competence is worth it but you shouldn't underestimate the volume of investment.
Solution approach: The already mentioned cost-benefit-analysis helps to determine goal oriented measures. Know your team's level of education and focus holistic as well as individual approaches equally.
Will analogue processes soon be replaced completely?
Prognosis regarding the future influences of digitization suspect a successive omission of analogue applications. But this process will take time. There are still too many businesses which primarily rely on analogue processes and although many of them pursue the goal of digitization, they often don't have a concrete plan.
The development of start-ups and new founded businesses suggests that young businesses rely on digital structures from the very beginning. Business size and smaller structures play a role here too. The digital construction of a small business is done less complicated than restructuring analogue processes of bigger businesses with more than 100 employees.
But big businesses digitize their processes successfully too. German statistics actually confirm that especially businesses with more than 250 employees use the strengths of social media. Furthermore, there are barely big businesses without their own website or a digital marketing strategy.
In some areas it is to expect that analogue processes will be replaced completely, especially in marketing. Reasons are measurability and that businesses reach out to a broader audience. But digital marketing strategies require deep knowledge in social media and SEO. Therefore, businesses are responsible to school their employees to not only expand digital structures but to ensure long term results as well.
Conclusion: Build on progress
Digitization is advancing and so is the expansion of internal competencies. New trends, especially in marketing, put companies under pressure to pull. Digital change may progress faster than the level of knowledge in the company is growing.
It is necessary to weigh up which trends and competencies offer added value. In addition, it is purposeful to build on existing strengths in order to ensure specialist knowledge. As already mentioned, it therefore makes little sense to get lost unnecessarily in details. On the other hand, it has disadvantages in competition if companies do not offer further training in certain areas.