In this article: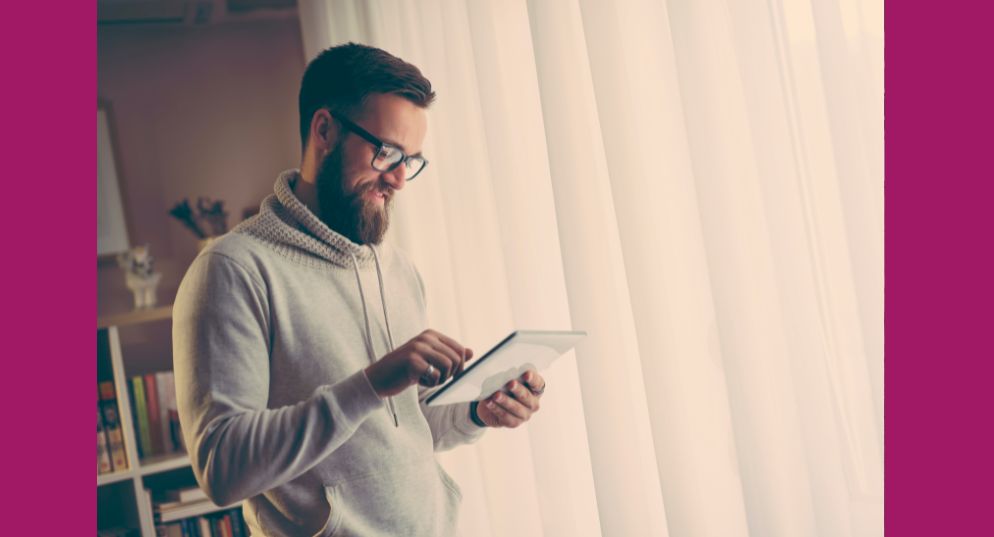 Digital media and its impact on corporate communications
Digital media are changing our communication behavior. We can be reached from anywhere and are in touch with people from all over the world. And where two decades ago we had to pick up the phone, nowadays friends simply send a quick message via WhatsApp. Maximum flexibility says hi. 
Companies have also recognized these advantages and are using digitization to improve their customer communications. Since the start of the Covid pandemic alone, almost 80% of all companies surveyed have expanded their digital communication channels. Whether digital signage, social media or blog, both the addressing of target groups and internal exchanges will primarily take place digitally in 2023. 
The growing possibilities in digital communication promise versatile applications. Not only does your marketing benefit from it, but you can also keep appointments regardless of location and enable your team to organize projects collaboratively and centrally. 
What is digital communication?
Digital communication describes the exchange of information through the use of modern technologies. In specialist circles, the term is understood as an independent type of communication, while in the corporate context it refers to the exchange between medium and end customer or the exchange between employees. 
In the context of marketing, many in particular mention digital communication, which in this context describes all measures to improve customer interaction. Content marketing and gamification are just two of many well-known methods. 
The exchange does not necessarily take place between two people, but can also take place between the customer and the software/application. This is the case with digital signage, for example.
Examples of digital communication
Thanks to digital communication, companies benefit from a variety of ways to interact with their customers and employees. Emails, MS Office and also social media have been part of the basic repertoire for many years. But other applications, such as meeting and project management tools, have also become part of everyday business life.
Concrete examples of digital communication in the company:
Social media channels (e.g., Facebook and TikTok).

Digital signage

Content marketing

(e.g. blogs or podcasts)

Design tools (e.g. Canva)

Entries in company and web directories

Rating portals

Project management tools (e.g. Asana)

Chatbots

WhatsApp

Meeting tools (e.g. Meet or Zoom)

Apps

Cloud-based solutions

(e.g. Google Drive)
Digital communication: These are the advantages
Digital progress promises your company some advantages in communication. These relate not only to automation or marketing but also to availability and process optimization. This results in scalable and also sustainable work processes. 
In the following, we will go into more detail about the advantages and how your business can benefit from them. Note that the advantages apply equally to a variety of measures/applications but we usually only give one or two examples to illustrate.
Brand building
Thanks to social media, it has never been easier to reach a national or even international target group. On platforms like LinkedIn, many German companies post in English, because they can reach a broad target audience. So you have the opportunity to decisively expand the radius of your appeal. 
Flexibility
Digital communication allows for flexible adjustments in your marketing activities. Content created with digital signage can be adapted in real time and access to other applications such as social media or design tools like Canva is also possible regardless of location. 
But it's not just in marketing that there are advantages in terms of flexibility, but also in communication via Zoom, for example. Meetings no longer take place in offices but can be conducted from home.
Availability
With the help of chatbots, companies communicate with their customers 24 hours a day. And thanks to applications such as WhatsApp, they can be reached for a longer time than by phone at the company.
In terms of availability, there are also advantages in terms of employee communication, because you can take part in a Zoom meeting even when you're on the move using your smartphone.
Process optimization and automation
Digital communication measures collect data sets that are relevant for companies. Monitoring enables precise evaluation of the collected data in order to optimize processes in the long term. This also opens up opportunities in process automation.
Digital Signage promises you all the benefits we have mentioned in this article! You can expect a modern and intuitive way of marketing like you have never seen before. >> Read more!
Increasing sales
Digital communication promotes understanding of individual customer needs. Be it through surveys, data analysis or ratings. This enables you to address target groups more precisely and respond to individual wishes. And that in turn results in increased sales.
Insights from collected data records also support analog sales. Improved customer understanding optimizes the approaches of your sales staff, because they can also respond better to different needs.
Customer feedback
Rating portals and reference areas on websites give customers the chance to share their experiences with your company. This promises an open dialog and you recognize your potential for improvement. 
This results in a nice synergy effect: rating portals give you a better overview of your customers' wishes and you can then initiate optimization measures. Your customers feel that they are being taken seriously and will commit themselves to your company in the long term. At the same time, an improved understanding of your customers promises more efficient work processes and thus also more sales. 
Sustainability
Emails and WhatsApp are slowly replacing postal traffic. As a result, less paper ends up in circulation. And digital meetings also help the environment, because they save you the commute, which means less CO2 is emitted. 
Easier exchange
Digital communication simplifies the otherwise laborious exchange of documents. The craftsman sends his work report via smartphone and invoices arrive at the customer's door within seconds via email. Companies save resources and errors in the content of documents can be easily corrected. 
Communication within a company is also much easier. Project management tools such as Asana centralize team collaboration, and thanks to Zoom or Google Meet, appointments can be held from the comfort of one's own home.
Disadvantages only exist to a limited extent
Many may argue that there are also disadvantages to digital communication. After all, they say, it is emotionless, personal contact is lacking, technical difficulties prevent smooth processes, and not every application is secure. However, it should not be overlooked that digital transformation is addressing these challenges and increasingly mastering them. 
Digital communication has changed in recent years. The exchange with customers is no longer static, nor is it emotionless. Intuitive design options promise a versatile and varied target group approach. Just think of the creative designs that catch your eye every day on Instagram or the possibilities in the area of gamification. 
Technical difficulties are a rarity. Website hosters meet high quality standards, which practically rules out serious disruptions. 
Possible drawbacks exist, that's a fact. But digital communication measures undergo a constant optimization process, which is why the disadvantages exist only to a limited extent. Customer communication is becoming more transparent, measures to improve the user experience are gaining the trust of older target audiences and security measures as well as GDPR obligations are safeguarding the implementation of digital communication methods. 
It all depends on the targeted use
Digital communication promises your company many advantages. The decisive factor for targeted use is weighing up the measures. A craft business, for example, benefits from digital signage, but a chatbot on the website makes little sense. 
As a first step, determine your individual needs and use digital communication measures in a targeted manner. Every company benefits from meeting tools such as Zoom or digital appointment calendars, but particularly in marketing you have to make sacrifices in order to use your existing budget efficiently.
Pictures: © Canva.com