What is data management? Strategy, tasks and advantages
https://framr.tv/wp-content/uploads/2023/01/data-management.jpeg
779
537
Manuel Renje
https://framr.tv/wp-content/litespeed/avatar/f8cd512cf9b19399e7d0076bd2991a1c.jpg?ver=1695582662
What is data management? Strategy, tasks and advantages
WHAT IS DATA MANAGEMENT? STRATEGY, TASKS AND ADVANTAGES
In this article, we will answer all your questions about data management. Advantages, examples, data security and best practices for your strategy.
In this article:
The most important in a summary
Data management provides many advantages such as safety, cost savings and efficiency
Innovative solutions don't cause any problems regarding GDPR
Many businesses complain about the missing transparency in data management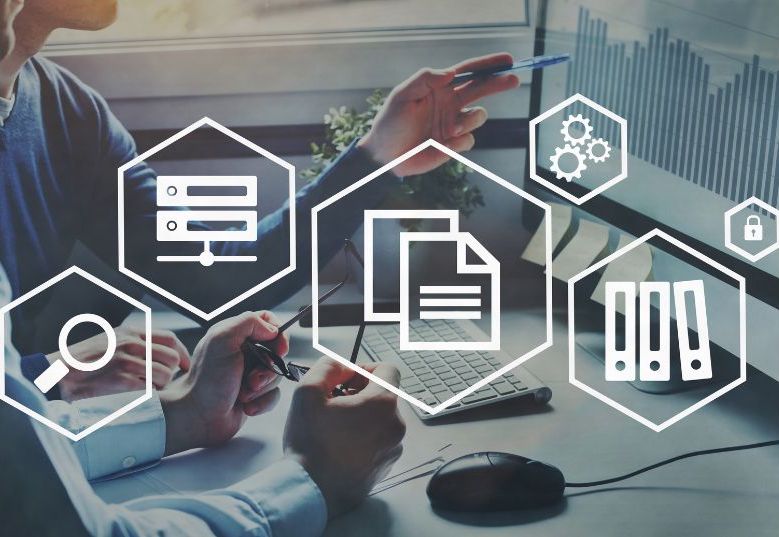 Definition: What is data management?
Data management belongs to the digital competencies and combines all elements of information transfer within a company. The goal is to establish methods and processes to save, to minimize and to archive data.
Many businesses have already established data management to automate working processes and to relieve staff. Furthermore, they pursue the goal to minimize mistakes and to ensure more transparency. Last is especially important because only when businesses consider current data they have the possibility to optimize processes sustainably.
In this article we will talk further about data management and its tasks. We will show you all pros and cons as well as common challenges. Other than that we will answer questions regarding data security and strategy.
Tasks of data management
Basically, the main task of data management is to save business related data transparently. Through that, stakeholders get insights into data and structure to make solution oriented decisions. Furthermore, businesses minimize their error rates and use their budget efficiently.
Data management is not limited to essential operation areas. Many might think of financial stuff and bookkeeping when they hear the word data management, but evaluating marketing KPIs and factors to improve quality management is also considered in the process.
Data management is a holistic process which takes over the following tasks:
Easy access to business data
More transparency
Establish automated and efficient working processes
Ensure safety and prevent data loss
Comply with retention obligation
Eliminate old or not needed data
Three steps to successfully execute a data management strategy
To successfully execute a data management strategy, businesses need to consider questions regarding data sets, data structure and data saving. The following three steps help you with that.
Know and understand your data sets
The first step of a successful data management strategy requires knowledge about data itself. Without understanding data sets of your business you can't create a goal oriented strategy. A systematic analysis considers three types of data, namely personal-related, "High-value"-business data and public data.
Personal-related data includes all data sets regarding your target group and other natural persons. This includes name, address and email. For these data sets the requirements of GDPR are to consider.
"High-value"-business data is sensitive business data. This includes bookkeeping data, tax documents and financial data. The encryption of this data is highly important.
Public data is accessible for everyone and concerns the area of marketing. Through transparency regarding marketing KPIs (social follows, website visitors etc.) businesses have easy access to relevant data but they have to consider to avoid intellectual property damages.
Structure data properly
Data-lake and data-warehouse belong to the most known methods of data saving. The data lake is a large store of raw data whose use has not been determined. In contrast, the data warehouse is a central collection of business data that is tied to a purpose.
Data lakes are easily accessible and do not require specialized knowledge to modify new data. However, data can only be accessed with specialized tools or by experts (e.g., data scientists). Data access via a warehouse is much less complicated, but data modification requires more effort.
Many businesses use both methods to have more advantages. Data warehouse requires less expertise for data retrieval and is more secure. On the other hand, data lake has advantages in terms of flexibility and data storage.
Storage environment
The best-known model of data storage is the cloud. This offers a variety of benefits to businesses, including secure data storage, greater flexibility and resilience. As an alternative, many companies are turning to server-based computing in the form of an internal storage environment. Hard to beat in terms of security, but not accessible to third parties without a cloud service.
To form better interfaces, there are so-called "data fabrics" on the market as storage environments. This concept combines the strengths of cloud services with those of internal storage environments and equips them with additional functions to ensure greater security as well as flexibility.
These are the challenges
Data management has many advantages (more about this in a moment!) but businesses face many challenges during the process of implementation. Some of them are:
Costs
Data volume
Requirements of stakeholders
Costs
Data administration causes costs. Although data management ensures cost savings, it's still recommended to carry out a cost-benefit-analysis to invest available budget efficiently. Therefore, it's less about if a data management strategy is financially worth it, but rather to which extent the budget is invested.
Data volume
With too much data volume, transparency might get lost. The usage of data management software reduces this risk but the danger of loss still exists. Without a goal oriented organization and planning, there are also no advantages regarding transparency and efficiency because your business might evaluate the wrong data.
Requirements of stakeholders
Data management pursues the goal to establish solution oriented as well as efficient working- and business processes. Hereby the requirements of stakeholders are to consider to evaluate collected data purposefully.
The bigger the company, the more complex are probably the requirements of stakeholders. That possibly aggravates goal oriented data management because wishes and expectations of single persons might go too far apart through which no clear goals can be determined based on the evaluated data.
This is how businesses master these challenges
Clarify requirements, knowing goals, planning resources purposefully and choosing high quality software. These four steps build the base for goal oriented data management. Especially stakeholder requirements and data saving are no hurdles with a detailed plan. In terms of costs, there are advantages with a data management strategy anyway, but insufficient calculation of personnel deployment may waste financial resources.
→ Simply explained: Planning is everything!
This is how you ensure a GDPR compliant realization
In May 2018, the European Union adopted the General Data Protection Regulation (GDPR), creating a legal framework for data processing. This legal framework is based on principles such as fair processing, lawfulness, adequacy of data processing, integrity, purpose limitation and accuracy.
Companies have a responsibility to ensure these principles in their data management. But in practice, this is not so easy. Even one incorrect setting in the website cookie banner may already lead to unlawful data processing. Good compliance prevents such difficulties.
Declarations of consent form the basis for DSGVO-compliant data processing. In addition, companies must comply with their administrative obligations and delete data upon request. A regularly changing legal situation complicates this process, so staff and involved stakeholders must be trained regularly.
The advantages of data management
Regardless of the mentioned hurdles and challenges, a goal oriented data management has many advantages for businesses. Some of them are:
Transparency
Problem identification
Eliminating disruptive factors
Targeted working processes
Process automation
Better user experience
Recognizing customer needs
Transparency
The accumulation of big amounts of data are barely overlooked by businesses which is why they often oversee important sets of data. Through a targeted administration, businesses ensure more transparency and can evaluate as well as organize data purposefully.
Problem identification
Transparent processes result in better problem identification. Organizations have a lot of interactions going on, whether between software applications or protocols – and good data management helps identify the problems created by processes.
Eliminating disruptive factors
Problem identification ensures an uncomplicated solving process of disruptive factors. Besides that, it's easier for businesses to execute prevention methods to avoid difficulties in the future.
Targeted working processes
The main goal of data administration is to optimize working processes. Through transparent data evaluations, businesses recognize their potential and use it. No matter if it's for marketing, human resources, bookkeeping or quality management. Businesses recognize, for instance, which marketing methods generate the most leads or which benefits motivate employees the most and then can improve existing processes based on that.
Process automation
Through performance and process monitoring, business can stop processes and methods which require too many resources. That, on the other hand, ensures possibilities and process automation.
Example: If companies try to implement too many marketing measures, the test phase takes longer and requires many resources. With more transparency regarding the target-oriented marketing measures, it is possible, for example, to optimize and automate lead generation. This is because companies can see what their marketing team is investing time in and thus shift the focus to the processes that lead to the goals.
Cost savings
The elimination of non-targeted processes results in financial advantages. Businesses are less focused on such tasks and approaches which don't promise any success. Furthermore, they reduce the effort for testing phases.
Better user experience
The advantages of data management are not only internal to the company. Data administration reveals important information about customer wishes and which advertising works best. It's also easier for businesses to react to trends. Hereby, there are advantages in the area of user experience and target group approach.
Recognizing customer needs
Feedback and ratings are among the most important sources for businesses to get to know their target group better and to identify customer needs. Structured data management helps to evaluate all collected sets of data better and to recognize customer wishes accordingly.
Advice for your data management strategy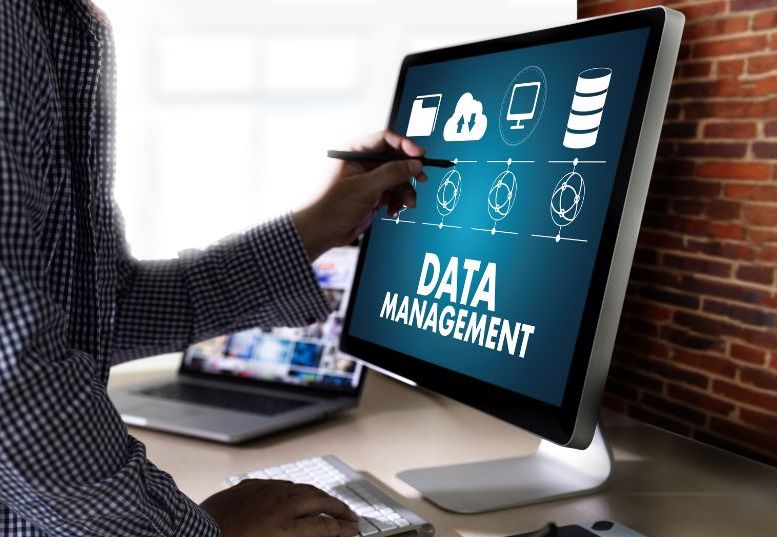 Develop a holistic and waterproof strategy
A good and goal oriented strategy should be your number one priority. Without knowing the requirements and goals of stakeholders, your business will collect too much irrelevant data. Also, deal in advance with questions regarding storage locations, file formats, monitoring of KPIs and which data protection regulations have to be observed.
A goal oriented strategy considered the following aspects:
Clarify roles and responsibilities in the team
Consider legal aspects and compliance
Determine measures and methods
Set up criteria for external business partners
Find the right data management software
Only use software which suits your business goals. The offer on the market is growing and there are suppliers for different goals. Clear the following questions to find the right data management software:
What are our business goals?
What is our budget?
Which requirements must a software fulfill?
Does the software fulfill legal requirements?
Consider changes
In the area of data management a lot of things have happened in the past years. There are different software providers on the market, the goals of stakeholders change regularly and customer needs are in an everlasting change. Data management doesn't only mean to establish purposeful structures once. Instead, targeted processes require regular optimization to ensure long-term results.
10 best practices for data management
Weighing costs and benefits
Know your business goals
Use databases which fulfill the requirements of your business
Centralize communication of involved parties
Teach your staff
Inform stakeholders and work transparently
Use data discovery to track processes and ensure good compliance
Act purposefully but thoughtfully when optimizing processes
Don't only think of business processes but also about the effect on your customers
Don't get lost in numbers but orient yourself on the wishes and desires of your target audience
Conclusion: Data are digital gold
Targeted data management ensures transparency, process optimization and cost savings. First, you need to clarify questions regarding software suppliers and responsibilities. Data management is a business process, a good strategy is therefore the fundament for a successful implementation.