A digital billboard creates flexibility and makes it possible to build your marketing strategy based on your target group.
In this article: 
Digital billboard: The modern way of advertising
In case you visited a mall within the last two years, you might have noticed, besides the growing offer of products, that more digital billboards are presented. It are almost inconspicuous displays which either show current offers or information. But not only malls take advantage of digital billboards. FRAMR reports about the trend and the advantages.

What is a digital ad display?
Digital ad displays, also known als "Digital signage solutions" are screens which show all types of content. Not necessarily advertising because the usage depends on the company's purpose and their customer behavior. The displays are connected to a software to show either video or picture content. With the support of a computer, the content is created, saved and then displayed on a screen device. The usage of a cloud makes it possible to display contents without an internet connection. You can even stream content live.
Digital Billboard: The many advantages
Digital Signage isn't something new on the market but yet, not all companies have taken advantage of it so far. Many businesses see digital signage as an expensive way to advertise their services and products that won't win them new customers. But only one of these assumptions is right: It's a way of advertising. And it's successfully used by businesses of all sizes which our use cases confirm. But why should you consider using a digital billboard for your business?
The advantages of digital signages are:
Higher flexibility in displaying content
Uncomplicated adaption of contents for the target group thanks to cloud based solutions
Saving money in the long term
Sustainable way of advertising
Innovative ways to support the interaction between businesses and the target audience
The cost saving is an often overlooked point – although the displays cost more to purchase than an advertising banner, the investment is worth it in the long run. But it gets even better: At FRAMR, the software subscription starts at just €6.90 and you don't have to buy any additional hardware. In addition, with our FREE trial version, we give you exclusive insights into the functionality and what content is available to you.
Which content is displayed on a digital billboard?
When thinking of advertising, most people see pictures and videos in front of their eyes. However, that defines the general use of digital signage systems because all contents are displayed as either videos or pictures.
Interesting are the features. The usage of high quality software makes it possible to show RSS-feeds, audio tracks, the weather, calendar, stock courses, social media icons, websites and PDFs. With the rising demand the supply also increases from time to time through which the usage of digital billboards expands.
Comparison to classic advertising: Which is better?
Switching to digital signage solutions leads to the question why the classic method is less efficient in terms of costs. We prepared two examples to compare classic advertising methods with digital billboards.
Business 1: The company uses advertising banners and is convinced that digital displays are not worth it and too expensive. The advertising poster costs much less. After five years the company takes a look at the created costs and determines: To provide video and picture content based on latest trends, regular costs for design and print are created. Also, staff is needed to attach the advertising poster which creates costs as well. Besides the financial factor the business owner also realizes how long the creating and delivery process of the poster takes. The missing flexibility makes it almost impossible to react fast on current trends and wishes of the target group.
Business 2: The owner of a mall knows how beneficial it is to stay flexible with advertising because new fashion trends dominate the market and the target group follows these trends. Therefore, the owner invests in a digital ad display along with good software. All in all, the investment costs 2.000 €. After five years the owner realizes that the investment was worth it – he can display the contents he wants and is flexible in creating them based on current trends. The owner needs content provided by a professional designer but costs for printing, delivery and staff weren't created. Other than that, he is more flexible and sets a good example for other companies to follow the digital trend.
The advantages are clear: Digital signage software is more sustainable, cheaper in the long term, content is more flexible and businesses follow the digital trend which makes them stronger than their competitors.
→ Find out more about the application areas of digital signage and the advantages for your business 
Digital display windows: A lot of possibilities
Thanks to the billboards, businesses are given the opportunity to place their advertising where they want, even in store windows. Advertising banners don't leave a good impression and barely win the attention of passengers. Digital displays on the other hand provide a modern appearance and have a higher recognition value.
That results in some kind of a domino effect. A digital store window awakens the curiosity of passengers and therefore it's more likely that they visit the store to buy something.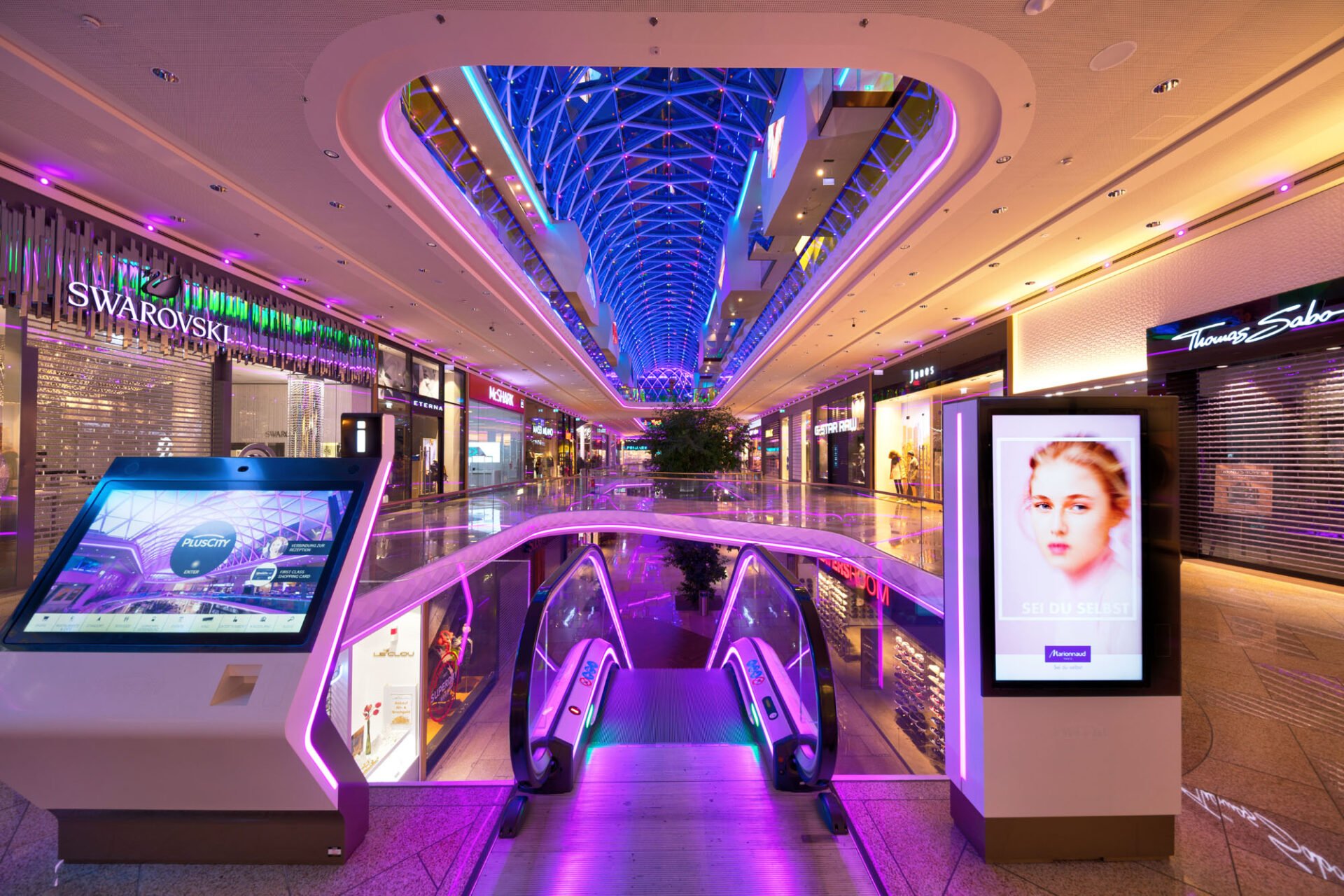 Outdoor digital signage: Protection is guaranteed
The flexibility of digital signage software creates the opportunity to place outdoor advertising. As good as that sounds, it also comes with the question how safe it is. Producers of digital displays are aware of customers' needs and also consider aspects of safety. A high quality display is safe from vandalism and small fires.
Customer Retention: The impact of digital signage solutions
Target group-oriented marketing is the be-all and end-all in 2022. Companies are aware of the competition and every company aims to target the right people. The days of the broad masses are a thing of the past and consumers are increasingly well informed anyway they also deal with new trends on a daily basis. This makes it all the more important to focus one's own offering on potential customers and their wishes.
With digital billboards, you address your target group directly, and through the design options of the software, you appeal specifically to individual needs. This arouses curiosity about the product range and boosts sales. At the same time, companies strengthen the positioning of their brand, because the user experience improves and digital marketing also creates new opportunities in the area of accessibility.
Here's an example: because of the flexibility created, advertising can be adjusted throughout the day and played out in a more targeted manner. As a result, digital billboards create the opportunity to target a different audience in the evening than during the afternoon. As a result, there is less wastage, you address different needs with content, and you use available resources more efficiently.
Internal communication: Is digital signage the turnaround?
So far, we've only talked about advertising. This might be the main use of digital displays but one way to use it shouldn't remain unmentioned: Internal communication.
Content creation is flexible and with that, the possibility is given to display information. Many doctors offices use digital signage systems successfully as a source of information. Considering that, it makes sense to use the displays in such ways. Between executives of businesses there is a constant exchange of valuable information but reaching all employees is difficult.
Internal ways of communication centralize this process – decisions, legal changes and news can easily be shared with a digital billboard.
Digital billboard: Future perspective
You can only make predictions about the future. However, we do see that there is a rising trend leaning towards digital advertising – displays take a huge part here. There is a potential use in every mall, train station or doctors office. Basically, the question shouldn't be if businesses can take advantage of digital signage – instead the question should be how long it will take to complete the change of direction.
Also interesting is the development in content creation and design – in the end it's not only about the displays but also the opportunity to provide content. Stocks courses, RSS-feeds and audio streams are added to displaying videos and pictures. A wide range of colors makes the content appear attractive and the constant development of software gives content creators and designers more space in terms of creativity.
Conclusion
Digital ads displays work! Businesses save time, money and the advantages regarding flexibility as well as content creation are good reasons for an investment. Who's already interested, should not forget about the versatile use – digital billboards aren't for advertisement only, they also provide information.
FAQ
Following, we answer the most frequently asked questions related to digital signage solutions.
Digital Signage: What is to consider?
Besides a display you also need a high quality software to display content. Other than that, you need someone to create the content.
What are the advantages of digital signage systems?
With the usage of sustainable and digital methods, businesses set a good example. It also saves money, time and provides more flexibility.