Many companies are banking on the strengths of chatbots, but how useful are they in 2023?
In this article:
The most important information in a nutshell:
Chatbots help automize business processes and also use them for lead generation (for example)
According to surveys, the use of AI on websites has a positive impact on the user experience
Care must be taken to use chatbots in a GDPR-compliant manner
Customer service, good communication and user experience – these three aspects are some of the most important competitive factors. In 2022 the main focus isn't necessarily on the most unique product or the best priced services (although this is important!), what matters is the "How" not the "What". 
Consumers and B2B clients know that they have a wide choice on the market and they can request an offer with just a few clicks. This is why businesses regularly look for ways to build a communication channel early and to stand out against their competitors. One strategy is particularly popular in the B2C sector: The use of chatbots.
This communication tool has existed since the end of the 1960s, but in its full functional version most businesses have first started to use the chatbot in the past ten years. Reasons for that are the automation of communication processes and the fast execution of customer inquiries.
But are chatbots useful in the first place? And how can businesses take advantage of artificial intelligence? What are possible challenges?
In the following we will take a closer look at these questions and which role chatbots will play in the future of B2B businesses. So much in advance: Chatbots solve three of the biggest challenges of businesses.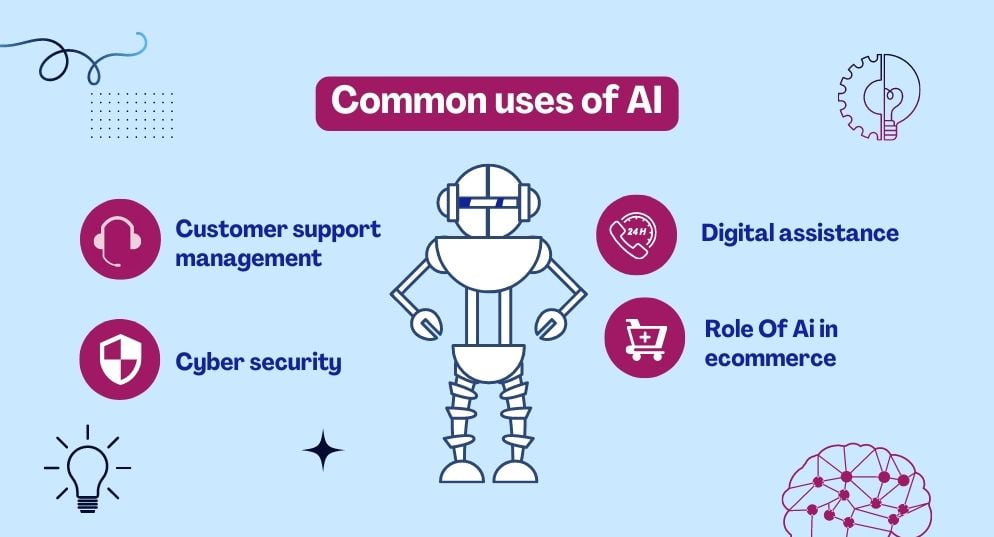 First, the definition: What is a chatbot?
A chatbot is a text based dialogue system which uses artificial intelligence to communicate in natural language. Users, for example website visitors, can ask questions and the chatbot answers in either text or audio format.
The application areas are diverse. Chatbots can answer questions about products but can also generate leads and communicate with potential applicants. Also for the industries there are no limitations – both the financial sector and personnel service providers as well as software businesses equally take advantage of the possibilities of artificial intelligence.
The emphasis here is deliberately on "artificial intelligence" because there are rule based chatbots with predefined commands as well. Such dialogue systems are based on the classic FAQ format because users can choose a question and the chatbot then displays the predefined answer. Through the use of artificial intelligence the chatbot works independently and is even able to have complex dialogues with users.
The B2B sector is not interested into chatbots
A study shows that only 58 % of B2B businesses used chatbots in 2021*. Considering the current development of digital communication, this number might come as a surprise but it does not come from nowhere. Most B2B businesses reach out to their audience and acquire them by phone or by using facebook ads. For this approach the term "Outbound marketing" was invented.
The opposite is inbound marketing, so that interested parties reach out to a business, for example by searching for a specific blog article topic or by subscribing to social media channels. Because of google ads and SEO this became a strongly relevant approach which is supported by chatbots because of their interaction with customers. An example for what the process could look like: Interested parties search for a service and on the website they are provided with help by the chatbot which answers relevant questions regarding advantages and features / characteristics. Afterwards, the chatbot offers an appointment and the potential client then is given the opportunity to leave contact details.
Here it becomes clear that AI is perfect for lead generation and to support marketing strategies.
→ But why do only a few B2B businesses use chatbots then?
In outbound marketing, the use of chatbots is quite limited. For example, it is possible that businesses win attention for their services by using facebook ads and the chatbot helps to communicate with website visitors which got in touch with the business through these ads. However, the strategy of companies often provides for clarifying important questions directly via the advertisement, so that interested parties get in touch with a Call-To-Action and therefore without even visiting the website.
Marketing via chatbots is also difficult for complex and high-priced services. These require targeted marketing, in which individual questions must be answered and decision-makers must also be convinced on a personal level. This is hardly possible with a chatbot because the AI recognizes customer needs only to a certain extent and therefore can't respond to individual wishes.
Article → What are use cases? Definition and examples
It would be wrong to claim that chatbots are not worth it in the B2B sector. The communicative support of chatbots delps decisively with marketing of products and services because the AI answers about 80 percent of all standard questions regarding usage and features. Lastly, many products or services aren't only bought or claimed because of their characteristics but also because of good communication which is often a decisive factor for potential customers to start a cooperation.
On top of that, businesses save valuable resources by using chatbots which can be used otherwise – through automated communication, the focus of internal strengths remains on core competencies. Furthermore the functions of AI ensure versatile communication with answering individual questions and therefore, chatbots are much more than a FAQ section which only answers standard questions.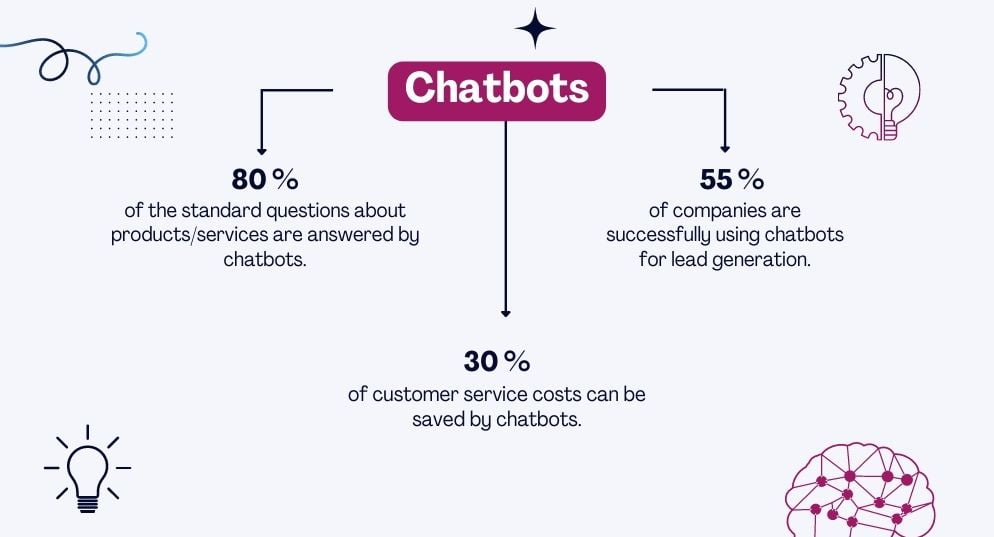 Since the beginning of our online presence, we at FRAMR. have integrated a chatbot on the website and use it to maintain communication with interested parties. Questions about our offer are answered easily and, above all, individually. Although the software and the functions of digital signage require explanation, we have no problems with communicating via a chatbot. In our case, the concept has even proven itself as a "virtual salesperson" and provided decisive advice to new customers. 
Especially interesting is the combination of digital signage and chatbot for the retail sector. As a virtual assistant, the AI helps with requests on information terminals and navigates customers independently. Thanks to digital signage, customers are provided with a centralized navigation point and the chatbot automizes the support completely. This interaction will digitize customer service as far as possible in the future and businesses will be able to save a lot of costs.
Chatbots solve three big problems of businesses
Let's face it: everyone has heard about the benefits of chatbots. Answering questions, communicating with users in an automated way and freeing up company time are just three of many benefits of the AI. But one issue is rarely addressed:
→ What business challenges do chatbots solve? 
The change in entrepreneurship comes with many challenges and what didn't matter only a few years ago, belongs to the basic pillars in competition now. Three of these challenges are accessibility, automated lead generation and cost savings in customer communication through digital applications.
Due to the given possibilities of a chatbot, the individual communication with customers is easier and even complex matters can be clarified. When chatbots got available for websites, applications primarily had the use to answer predefined questions. That might have been a user friendly approach in comparison to a FAQ section but companies weren't really relieved. But that has changed and in 2023 chatbots ensure an uncomplicated dialogue with (potential) customers through which the personnel expenses are reduced and costs are saved.
In addition, the dialogue with website visitors allows them to query personal data to directly reach out to (potential) customers. If an interested party, for instance, wants to know more about the services of a business, the chatbot can offer an individual calculation in the dialogue. The potential client then provides his e-mail-address or telephone number and companies can create an offer.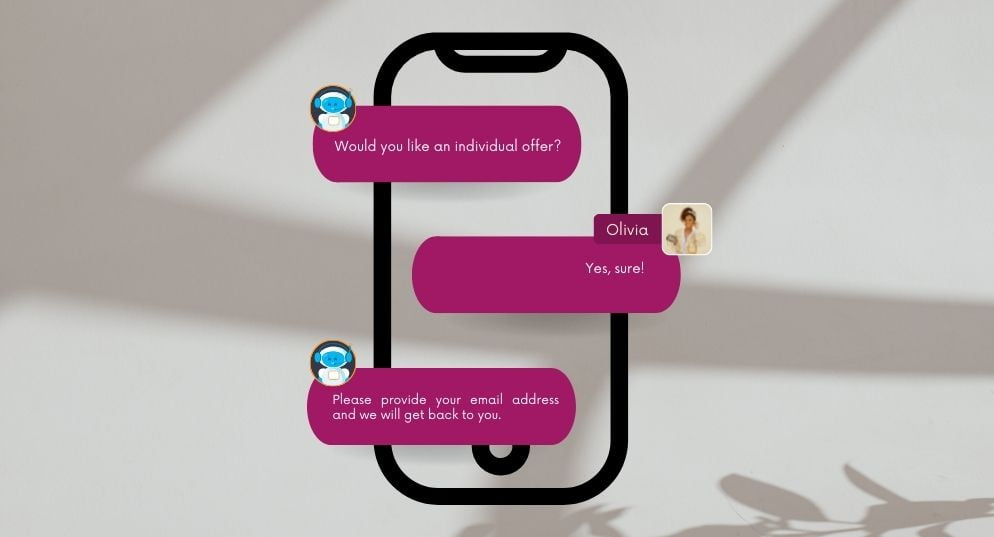 But it's not always just the resources that count – especially in online marketing, it plays a decisive role in how intuitive and user-friendly the handling of an application is. Accessibility is therefore focused by many businesses. In addition, barrier-free functions have become a SEO criteria and will also improve the findability of websites.
Using chatbots to support people with disabilities deviates from the classic concept of a dialogue system and provides assistance. Such functions can, for example, expand the size of letters on a website, fade out content on terminals (to reduce distractions), read out loud texts or display graphics more viewable.
More than 85 percent of users report about good experiences
Not only do chatbots provide businesses with advantages and chances, they also improve user experience. Statistics / surveys determined the following results:
About 30 percent of users are interested into AI based applications
One third of all users prefer communication with a chatbot
64 percent of website visitors specify that they like the idea of a 24 hours customer service
More than 50 percent of surveyed said that chatbots positively influenced the experience with a business
Source: https://www.smallbizgenius.net/
Due to the growing possibilities with artificial intelligence, it is to expect that user experience will improve further. Customers expect higher and higher standards and everyone wants durable as well as user-friendly support – chatbots meet these requirements. Companies, even in the B2B sector, should keep these statistics in mind because they show the potential of automated communication.
Webinar
You want to learn how digital signage, marketing and process automation work in FREE online webinars? Then be there LIVE at the next event!
What are the challenges of using chatbots?
The usage of chatbots comes with many advantages but also challenges. One of them is the aspect of data security. In general, chatbots don't violate the GDPR but there are important requirements to fulfill to ensure the protection of personal data. Don't forget: The GDPR compliant use of chatbots is not only in the interest of business security, but also influences the trust relationship with your website visitors and (potential) customers.
Another challenge concerns communication. Chatbots can only recognize human emotions in dialogue to a limited extent and even individual exchanges cannot be compared to personal interaction because the chatbot largely responds with automated messages. While AI enables communication beyond standard questions, it cannot replace one-on-one exchanges. It would be too much to expect the same interaction possibilities from a chatbot as from a human but customers do want eye-to-eye-support. No emotions and limited dialog options make communication more difficult and this can lead to misunderstandings.
However, progress is being made in this area and chatbots can at least partially recognize emotions. A google engineer recently announced that one of the company's AI systems is sentient and interacts on a human level.
This is how you successfully use AI for your business
Setting goals is the number one priority. Every business benefits from communication through a chatbot in some way, even when it can only answer standard questions. Ideally, a chatbot is involved in a marketing strategy to generate leads to collect personal data for reaching out to potential customers. Provide interested parties with the opportunity to ask for an individual offer or to send them a free calculation. This causes users to submit their phone number or mail address so that you can contact them afterwards.
Chatbots also come with some disadvantages you should consider. Some users see chatbots as rather critical because they might recognize an approach of businesses to save money and to prevent the individual, personal contact.
Besides that, chatbots don't work for all kinds of products or services. For instance, luxury goods or high-priced products are difficult to market through AI because the target audience expects individual support to answer specific questions.
Lastly, using chatbots shouldn't become such a complicated thing. Using AI has equally advantages for all kinds of businesses but not a huge impact on marketing strategies or KPIs. This is why we give you the following advice: Just try it! There is nothing you can do wrong with chatbots and you provide your target audience with an efficient way of communication.
Conclusion: Are chatbots THE communication tool of the future?
Chatbots ensure many advantages for businesses, especially in customer service. Software developers recognize this potential which is why the functions of chatbots are regularly expanded and improved. The individual dialogue allows a targeted communication which goes beyond the supporting functions of a FAQ section. Chatbots will not be able to replace human-to-human-interaction in foreseeable time but the progress is noticeable and businesses steadily automate their communication processes.
Especially interesting is the progress in accessibility. Here it becomes clear that chatbots can do more than just answering messages, they are also an interactive system to provide supportive functions.
To answer the first question of this article: Yes, chatbots are useful. They will probably never be a key factor for a purposeful marketing strategy but will definitely support it and facilitate customer communication. One forecast refers to the fact that the cost savings of companies using chatbots will amount to 2.5 billion euros by 2023. In addition, a marketing report by "Drift" found in a study that chatbots are the fastest growing medium for brand communication.
This growth clarifies which role chatbots will play in the future and especially that companies see a lot of potential in automated communication processes. Another mentionable aspect is the cost-benefit-ratio. Chatbots ensure, as already mentioned, cost savings and many advantages, however the costs are only about 150 up to 1.000 euros per year! On top of that, integration and hosting barely takes time.
Sources:
*https://outgrow.co/blog/vital-chatbot-statistics
https://www.smallbizgenius.net/by-the-numbers/chatbot-statistics/#gref
https://shanebarker.com/blog/challenges-and-benefits-of-ai-chatbots/#
25+ Top Chatbot Statistics For 2023: Usage, Demographics, Trends