7 BEST PRACTICES FOR B2B LEAD GENERATION IN 2023
The best methods for B2B lead generation! ✔ 7 tips ✔ Start successfully in 2023
In this article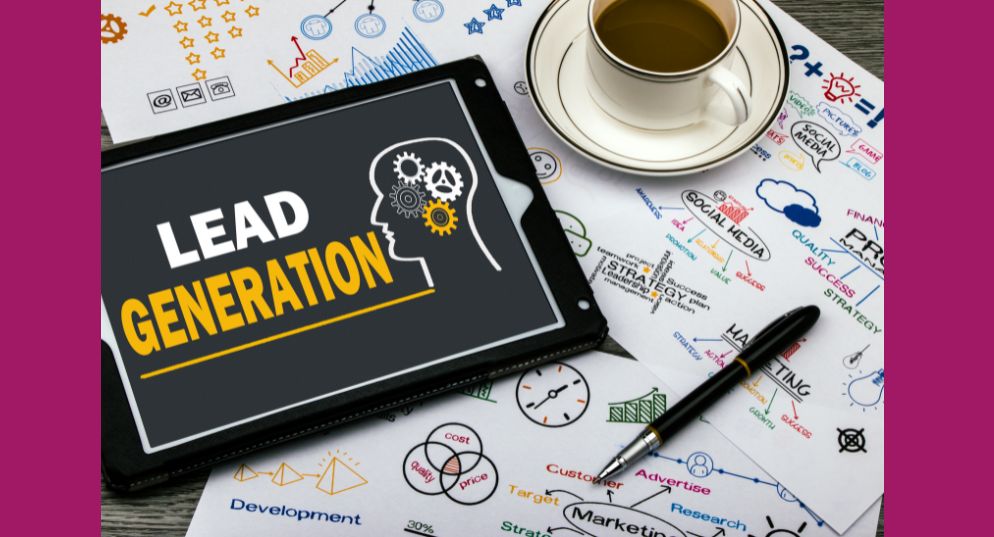 Gone are the days of annoying cold calls, because most companies rely on strategies from inbound marketing. According to statistics, it is now even more than 90 percent. And the goal is the same for all companies, namely to generate leads. Hardly anyone talks about more sales or new customers in the first step of their marketing strategy, but leads. They are the fine line between "My target group doesn't want to have anything to do with me" and "I'll win over customers who will stay loyal to me for 25 years." And for two reasons, many businesses fail to walk this fine line.
One reason is a lack of strategy. Many companies have a rough idea of their lead channels, but are unable to use them effectively due to a lack of planning. This is why approaches to convert leads into customers fail in the end.
The second reason is a lack of know-how in using available channels for lead generation. With the constant changes in content or social media marketing, some businesses find it difficult to reach their target audience. And even when they do win leads, they don't know how to retain them.
In this article, we address both of these challenges. By doing so, you'll set the stage for successful B2B lead generation. We concretize best practices and go into strategic aspects that promise more leads in 2023.
The most important facts in a nutshell
Leads are prospects who share their contact information with companies.
For lead generation, consider strategic questions about your target audience, your available budget, and long-term prospects for success.
Set realistic expectations for lead generation.
Content marketing promises the most leads in the long run.
What is B2B lead generation?
A lead is a qualified contact who is interested in a company's services or products. In contrast to a customer, a lead has not made a purchase or contacted the company yet.
The lead can be in different phases. For example, they may be on the verge of making a purchase, but they may also be interacting with a business out of pure curiosity.
The term "lead" often divides opinions. Not because of the definition, but because of the meaning of a lead. Some see leads as nothing more than prospects. For others, they are a measure of success that promises a lot of sales. Experts have therefore created the terms "cold leads" and "hot leads" to qualitatively classify and distinguish between prospects.
When making this distinction, it is also important to consider how sustainable a lead is. After all, some prospects quickly become customers, but they only buy from a company once. On the other hand, some prospects remain in the lead phase for a longer period of time, but then develop into long-term customers.
So much for the definition. In the next step, we'll go more into detail about B2B lead generation channels and methods to help your company generate more qualified prospects.
Which channels can be used to generate leads?
Leads can be generated anywhere your target audience is located. Your options are not only limited to digital methods, because potential customers are also waiting for you in the outdoors, for example. The following channels come into question for lead generation:
-> Trade shows & events: Since 2022, outdoor events are again an interesting way to generate more leads.
-> Content Marketing: The undisputed number 1 in B2B lead generation. This includes blogs, videos and podcasts.
-> Social Media: In the B2B sector, LinkedIn is proving to be a promising channel to strengthen one's brand and generate leads.
-> SEO: Search engine optimization is only partly a part of content marketing. However, it is a separate, independent area for expanding entrepreneurial reach.
-> Newsletter sign-up forms: Discounts and exclusive offers are still helpful lures for B2B lead generation in 2023.
-> SEA: There are commercial intentions behind many Google searches. And paid ads specifically address this demand. Google Ads is therefore one of the best lead engines in digital marketing.
-> Freebies: E-books, videos and whitepapers belong to the most popular methods among free downloads.
-> Print: Print media lost relevance in the last few years, but depending on the target group, they still support lead generation.
Don't forget to provide your target audience with a "point of contact". Your channels should ideally lead to a website where prospects can leave their contact information or contact you directly.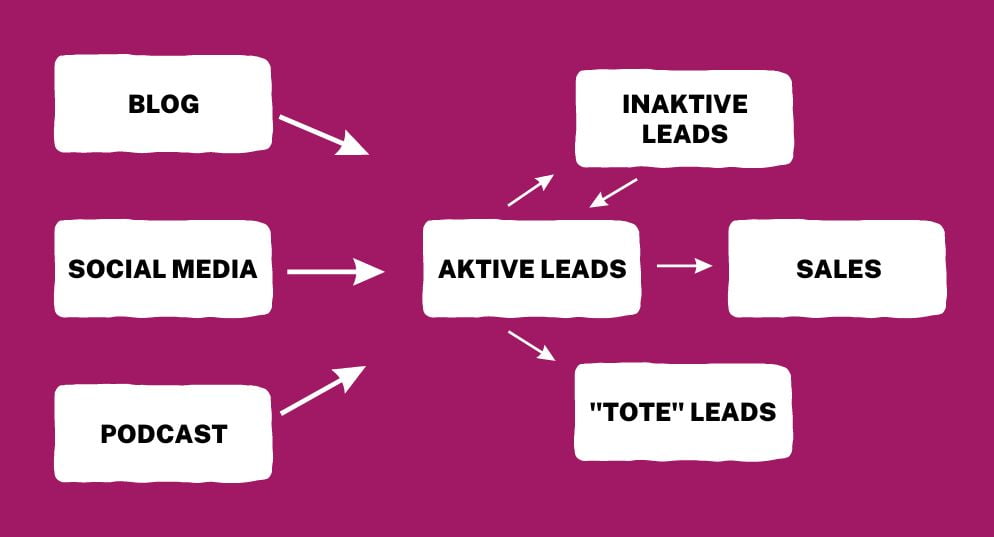 7 proven methods for B2B lead generation
The following methods complement the channels mentioned in the last point. Every company knows the advantages of a blog or a whitepaper, but often fails to implement them correctly or to build a sustainable lead strategy. Our following tips will help you to use the available channels in a target-oriented way.
The seven methods at a glance:
Don't just use newsletters as a decoy
Prioritize the user experience
Don't forget the customer journey
Place call-to-actions in the right places
The strengths of versatility
Interact with your target group
The overall impression must be right
Don't just use newsletters as a decoy
The paths from leads to customers are often relatively short, because many prospects make impulse purchases. Even in the B2B sector. The reason for this are discounts that companies offer in return for newsletter sign-ups. You probably know this when you visit an online store and after a few seconds the newsletter registration form with discount code appears.
This method is great for quick sales, but the goal is to build up customers in the long run. A newsletter is more than a tool to give discounts. It's a way to build long-term loyalty with your target audience.
Let's say you're the owner of an online workwear store. Your newsletter marketing options are many in this area, ranging from safety tips to information about textile properties. So why would you only use your newsletter to offer a one-time discount?
Of course, you should continue to offer discounts to attract buyers. But first and foremost, a newsletter should add content value and build trust with your target audience. The newsletter is not an entertaining marketing tool, but your digital corporate magazine.
Prioritize the user experience
People buy where they feel comfortable. And the feel-good factor is lost if a new pop-up window opens on your website every three seconds. Long loading times on your website or too much advertising are just as annoying. But optimizing the user experience doesn't just mean eliminating disruptive factors.
The competition is getting bigger and your target group knows that they are only a few clicks away from the products or services of your competitors. That makes it even more important to clearly communicate USPs and benefits from working with you. You can produce the best content or even be a luminary in your field – but it has no meaning for B2B lead generation if the communicative approaches are not right. Set a clear tone, communicate key messages, and make it clear what you offer.
The last point is particularly important. Some websites advertise with promises such as "More sales with XY" or "Increase your brand awareness with XY". In doing so, they ignore the questions that are actually important for cooperation. Among them the following:
What are our focal points?
What additional services do we offer?
What do our services cost?
What are our references?
What makes us stand out from our competitors?
Advertise not only with objective advantages, but with personal strengths and UPSs. Exceptions are B2B services in need of explanation, where potential customers have not yet recognized their benefits. But in most cases your target group has a clear search intention and knows what objective advantages they get from your product or service.
Don't forget the customer journey
Your target group has several touchpoints before taking action. Especially in B2B, impulse buys or quick contacts are rare. Rule of thumb: The more complex the product or service, the more information your target audience wants.
You can't expect leads if your company doesn't provide quality content. Write blog articles, publish social media posts or produce videos. Use these mediums to answer questions about your offering. Your target audience has objections and needs information before making a decision.
Ask yourself: Would you subscribe to a newsletter or interact with a company more often in the future if it didn't offer you value? Or if you didn't even know what the company offers? Probably not.
-> Content marketing doesn't just have the function of promoting your offer or providing information. You also build a trust base with your target group with regular postings/uploads.
Often, lead generation also fails because of your content prioritization. The best example is our company, FRAMR.
Digital signage are B2B products that require explanation. Therefore, we can't expect leads if we don't go into more detail about the strengths of digital signage on subpages/blog articles or communicate information about application options and pricing. That's why we created relevant content first and only then focused on guides on other topics (e.g. marketing).
Take-away: The more expensive and complex the product, the more touch points your target group has. A bottle of wine for 8 euro is bought because of the beautiful label. But a high-priced service is only claimed by interested parties who have insights into the work processes and in-depth product information.
Place call-to-actions in the right places
Successful lead generation is based on decisively motivating one's target group. Not only through facts and information, but also through prompts. The call-to-action should not be missing from any website, newsletter or social media post description. But there are two important points to consider when it comes to the CTA.
First, the CTA must not appear anywhere in the text. Make sure to place the calls to action cleverly. This can be in the context of a challenge, for example, or after you appeal to possible "trigger points" in a blog article.
Example: You are a marketing service provider and write a blog article about seven mistakes in B2B lead generation. In this context, it is a good idea to place a CTA after the seventh mistake, worded as follows: "Mistake No. 8: You are not yet using the strengths of a professional service provider to increase your success rates". Alternatively, you can describe a complex problem in the text and offer yourself as a helping hand.
In this context, it is also important, and this brings me to the second point, to place the CTAs strategically. Don't just think of the CTA as a call to action to generate leads, but also consider the customer journey here. CTAs can also be references to use cases or informative articles. The request to contact or buy is the last step in the customer journey. Before that, it's about answering questions from your target audience.
The strengths of versatility
The more content channels you play on, the better you communicate with your target audience. Of course, content marketing requires a lot of resources and the production effort should not be underestimated. But the investment is worth it, because the more reach your company generates, the more leads will stick. Consider all your options and think "outside the box" too. There are not only blogs, videos or podcasts, but also apps or rather "unconventional" social media platforms like Reddit.
Interact with your target group
Between reach building and lead generation, there is one more intermediate step which is the engagement of your target audience. Don't just use the available marketing channels for advertising messages, but ask questions and invite interaction.
Everyone likes to be the center of attention and wants to present their opinion, accordingly people comment or at least mentally participate in your posts. Sure, the mental interaction has no effect on your KPIs, but your company will still be remembered. After all, the point is to set impulses.
Have the courage to post a clear statement on LinkedIn. Opinion leaders are not afraid to communicate something more daring. Your interaction rate will increase and more people will follow you.
B2B lead generation is not something static based solely on strategic approaches. Emotions and strong opinions also reach people. Sometimes even better than the pragmatic way.
The overall impression must be right
Lead generation is part of a holistic marketing strategy. Also, focus on building your brand awareness, strengthen your corporate positioning, take care of search engine optimization and also consider design elements on your website. Successful lead generation is based on a holistic approach.
These strategic issues need to be addressed
In addition to implementation, it's also important to consider strategic components. And that doesn't mean just thinking about content channels or user experience. Rather, companies need to clarify strategic questions to set the course for successful lead marketing. Among them are the following:
What budget do we have available for external service providers?
What measures do we take for lead generation?
In how much time do we want to generate how many leads?
How do we target the leads and convert them into customers?
How can we actively involve cold leads in the company's activities again?
What alternative actions can we take in case our strategy does not work?
Is it a push or pull campaign?
How can we identify and implement our optimization potential for a campaign?
How can we automate lead generation processes?
To answer these questions concretely, we recommend the SMART method. It is known to most and is considered one of the best goal setting methods. The graphic below details all five steps and how to use them for your strategy.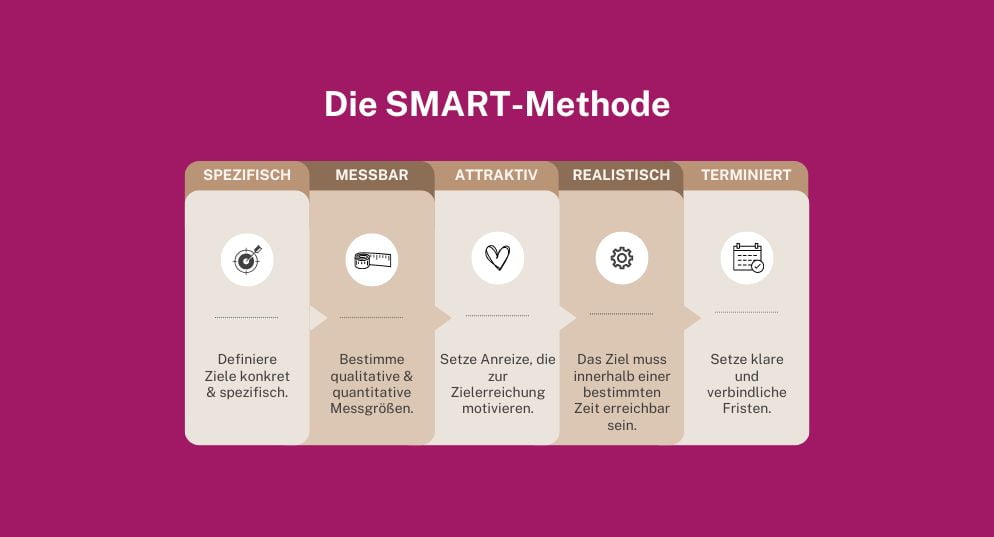 Don't rely too much on freebies
Whitepapers and e-books are definitely on-target methods for lead generation, but they don't promise the same growth they did a few years ago. B2B audiences in particular know that freebies are just a means to an end. And not everyone wants to receive your newsletter.
Our recommendation: Don't use freebies as a lead magnet, but use them to strengthen trust with your target group. Give away the freebie and use it for positioning rather than lead generation. Your target group appreciates it when they get something for free. And that in turn has a positive effect on your business, because those who create trust position themselves more strongly among the competition and arouse curiosity.
In this context, we would also like to talk about expectations. Freebies and other lead generation measures do not promise quick success. Even today, many entrepreneurs think that they have a good foundation for lead generation with two blog articles. Others think that a 100 euros budget for Google Ads will generate many new customers. But these ideas miss the reality. To stay competitive, companies ideally produce weekly content. And if you want to take advantage of the strengths of Google Ads, plan on at least 250 euros in costs per lead.
-> Expectations have a major influence on business success. Only those who set realistic standards can develop a target-oriented strategy.
Make inactive leads curious again
Generated leads are not the only quantitative factor, but also converting prospects to customers. Leads only have value to your business when they buy products or claim services. Accordingly, consider customer acquisition via existing leads in your strategy.
Also, focus on re-mobilizing inactive leads. Many companies don't realize the potential of inactive prospects because they are only focused on lead generation. But optimizations in your marketing can bring back many prospects.
Sure, you can't increase the open rates of your newsletter marketing to more than 50 percent, but that shouldn't be your goal. Instead, it's about improving KPIs in general and adding quality to your lead inventory.
Remember that you are in competition with many other companies and have to fight for your leads. Change the language of your newsletters, make campaigns more engaging, and encourage engagement on social media. Interactive measures like gamification also mobilize inactive leads.
Conclusion
In 2023, B2B lead generation continues to pose challenges for many companies. The reasons vary, but many fail mainly due to inadequate content prioritization. Answer basic questions about your offer on your website and communicate added value.
So before you optimize your current lead strategy, it's better to ask yourself what content is still missing or what objections exist to your offer.
FAQ
Finally, we answer frequently asked questions on the topic.
Inbound marketing is a method of acquiring new customers. Companies provide informative content via blogs and social media to attract attention.
Cold leads are unqualified leads who don't know your product or service well or have no in-depth touch points with it yet.